Paul Giamatti Joins The Increasingly Wacky 'Jungle Cruise' Cast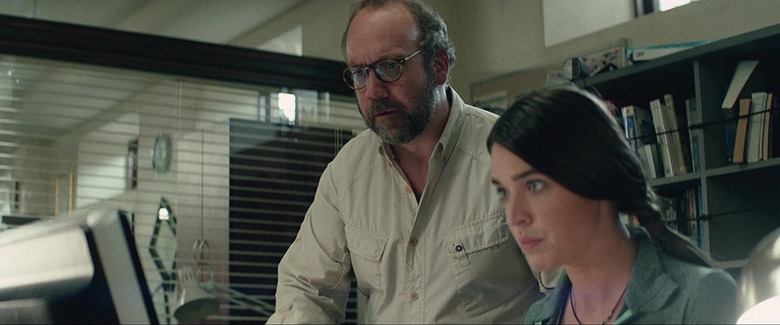 Jungle Cruise has just added another Golden Globe-winning actor to its growing cast. Paul Giamatti is reuniting with his San Andreas co-star Dwayne Johnson to join the Jungle Cruise cast, Disney's adaptation of the iconic theme park ride.
The cast of Jungle Cruise is steadily shaping up to be one of the wildest ensembles in recent Disney memory. Giamatti joins Johnson, as well as Emily Blunt, Jesse Plemons, Edgar Ramirez, and Jack Whitehall in Disney's adaptation of its famous ride.
Giamatti will play a "crusty harbormaster" in the Disney action-adventure movie, according to The Hollywood Reporter. That's such a vivid character description that I only wish Giamatti's name was actually Crusty Harbormaster in some grand twist of fate. It would add to the whimsy of this theme park adaptation, which sounds like it will go in some strange and surreal places. Jungle Cruise is set in the early 20th century in the Amazon jungle, and follows a crew of people on a quest to find a magical healing tree.
It's been a while since we've seen Giamatti on the big screen, and I welcome his presence in a movie that sounds as wild as Jungle Cruise. He currently stars on Showtime's Wall Street drama Billions, and recently appeared in the Reed Morano-helmed indie drama I Think We're Alone Now.
Here's the synopsis of Jungle Cruise, per THR:
Johnson will play a boat captain who takes his sister (Blunt) and her brother (Whitehall) on a mission to find a tree believed to possess healing powers. Wild animals and a competing German expedition figure into the proceedings.
While you could write off Jungle Cruise as another Disney cash grab, it's totally possible that the jungle adventure film could be the next Pirates of the Caribbean: a blockbuster that turns the thinnest premise into a rollicking action film. The uber-talented cast (especially the ridiculously hilarious Plemons, who stole the show in Game Night) is one factor, but another factor is director Jaume Collet-Serra. A Spanish filmmaker best known for his stylized B-movie action films that are elevated by charismatic performances (Liam Neeson's The Commuter and Non-Stop, and the Blake Lively shark movie The Shallows), Collet-Serra may transform Jungle Cruise into more than just a standard Disney action film.
Jungle Cruise is set to start production later this month and will shoot through the summer. There is no set release date yet for Jungle Cruise.