Deadpool Surrenders To Celine Dion In A Melodramatic Music Video For 'Deadpool 2'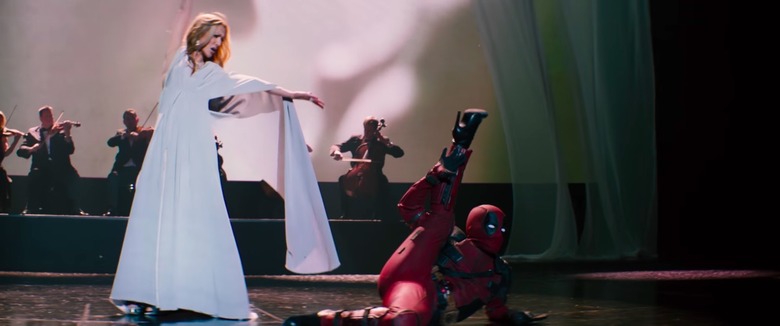 Deadpool can do everything Celine Dion does, but backwards and in heels. Actually, scratch that, because no one can hold a candle to that Canadian pop queen, though Deadpool does a pretty mean interpretative dance in the music video to her song for the Deadpool 2 soundtrack, "Ashes."
A Deadpool 2 music video has been released by 20th Century Fox, and it will make your heart go on. Celine Dion looks radiant singing the soaring lyrics to "Ashes," an inspiring power ballad that seems like it would have little to do with the tongue-in-cheek superhero satire. Until, that is, Deadpool waltzes onstage clad in high heels.
Deadpool 2 Celine Dion "Ashes" Music Video
Dion steps onto The Colosseum stage at Caesars Palace, , glowing under the luminescence of the lone spotlight (and the awkward CGI around her face). At first it seems like a standard Dion music video, until the 1:47 mark hits, and you can see Deadpool sashaying his hips to the music as he steps on stage. He then performs an interpretative dance befitting a professional modern dancer, twirling and prancing around the stage with zeal.
"Let beauty come out of ashes," Dion sings in the refrain as the music video cuts to footage of Wade Wilson's burned face, reminding us that Deadpool himself is a bloodthirsty phoenix who has risen from the ashes. The entire music video is a Canadian dream team (Ryan Reynolds is also Canadian, in case you forgot), and a viral stunt that's perfectly suited to Deadpool 2's irreverent humor.
It's hammered in by the bit between Deadpool and Dion at the end, in which he applauds her performance in an empty theater, but says that the performance was a little too good. "You're like an 11, we need to get you down down to a 5. Just phone it in."
"Listen, this thing only goes to 11," Dion angrily retorts. "So beat it, Spider-Man!"
The music video, which was directed by Deadpool 2 director David Leitch, was released ahead of the Deadpool 2: Original Motion Picture Soundtrack. The 12-track compilation album is available for pre-order now before its May 18, 2018 release.
Here is the 
full track listing for 
Deadpool 2: Original Motion Picture Soundtrack
:
Ashes – Celine Dion
Welcome To The Party – Diplo, French Montana & Lil Pump (feat. Zhavia Ward)
Nobody Speak – DJ Shadow feat. Run The Jewels
In Your Eyes – Peter Gabriel
Take On Me (MTV Unplugged – Summer Solstice) – a-ha
If I Could Turn Back Time – Cher
9 to 5 – Dolly Parton
All Out Of Love – Air Supply
We Belong – Pat Benatar
Tomorrow – Alicia Morton
Mutant Convoy – Tyler Bates
Bangarang (feat. Sirah) – Skrillex
Deadpool 2 stars Ryan Reynolds, Josh Brolin, Morena Baccarin, Julian Dennison, Zazie Beetz, T.J. Miller, Brianna Hildebrand, Jack Kesy, and Stefan Kapicic.
The film opens in theaters on May 18, 2018.