'Solo: A Star Wars Story' Featurette Shows Chewbacca Is A Total Diva On Set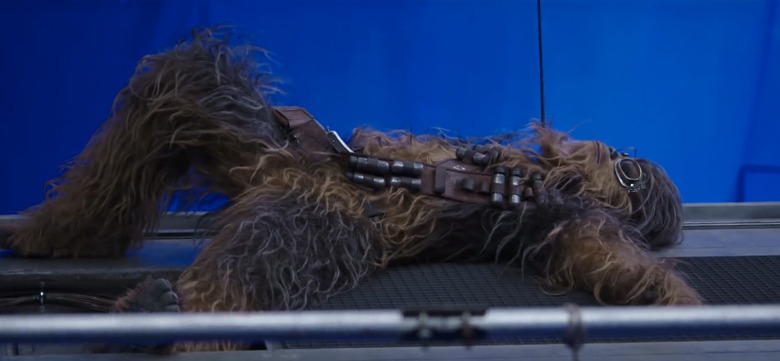 We've got just a few weeks left until we find out whether Han Solo's origin film is worth a damn when the spin-off Solo: A Star Wars Story hits theaters. Until then, you can bet Lucasfilm will be on a marketing blitz to convince all those Star Wars fans who aren't yet on board, but perhaps more importantly, all those general audiences who need a little more convincing to buy a ticket to see this one in theaters. And who better to do that than everyone's favorite Wookiee?
A new Solo: A Star Wars Story featurette has surfaced online focusing on Han Solo's co-pilot Chewbacca. This movie will reveal how the buddies came into each other's lives, and that means Chewbacca is more prominent than he's ever been before. But according to the Solo cast and crew, that has turned him into a little bit of a diva on set.
Watch the Solo A Star Wars Story Chewbacca Featurette
While this is all a little silly, it's not just to promote Solo: A Star Wars Story. Instead, this video is the launch of a new charity campaign supporting UNICEF. It's part of the ongoing Star Wars: Force for Change initiative, but this time it's called the Roar for Change, and here are all the details you need to know:
Lucasfilm and Star Wars: Force for Change today announced Roar For Change, a global challenge in support of UNICEF. The initiative invites fans and families to share their own version of Chewbacca's iconic roar. For each public post, like, or share on Facebook, Instagram or Twitter that includes #RoarForChange between May 3 – 25, 2018, Star Wars: Force for Change U.S. will donate $1 to UNICEF USA, up to $1 million. Funds will be used to support UNICEF's lifesaving work for children around the world.
"Every year, May 4th has seen fans across the globe become Forces for Change and rally around good causes," says Paul Gainer, Head of Disney Consumer Products Commercialization. "This year, as part of the countdown to the launch of Solo: A Star Wars Story, we're giving them a fun way to support UNICEF while celebrating Han's legendary sidekick Chewbacca, and his iconic roar, which is almost as recognizable as the Wookiee warrior himself."
Fans can share their best Chewbacca impersonation, don Hasbro's Electronic Chewbacca mask, or create a Dubsmash using one of Chewbacca's best-known roars from the Star Wars saga, which will be hosted on the app's homepage for the duration of the campaign.
So while you'd normally embarrass yourself on social media without helping anyone, this time you can roar like Chewbacca online and help support a good cause. Be as creative as you want. Maybe even tear someone's arms out of their sockets after losing a game of dejarik. That's what Chewie would want.
Ron Howard directs Solo: A Star War Story, which opens in theaters this month on May 25, 2018. And if you want to see more from the movie, you can check out another featurette for Solo over here.
Board the Millennium Falcon and journey to a galaxy far, far away in Solo: A Star Wars Story, an all-new adventure with the most beloved scoundrel in the galaxy. Through a series of daring escapades deep within a dark and dangerous criminal underworld, Han Solo meets his mighty future copilot Chewbacca and encounters the notorious gambler Lando Calrissian, in a journey that will set the course of one of the Star Wars saga's most unlikely heroes.