'Robin Hood' Trailer: Taron Egerton Stars As The Hooded Archer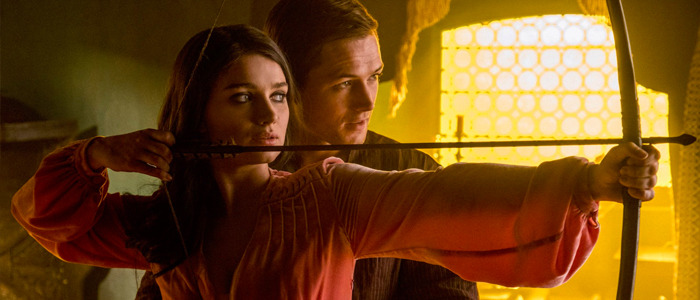 Robin Hood has been a star of the screen since the early 1900s, and though it's been a few years since the legendary archer appeared in a movie, he'll be back in 2018. This time, Taron Egerton (Kingsman: The Secret Service) is wielding the bow and arrow, and Hollywood's go-to villain, Ben Mendelsohn (Rogue One, Ready Player One) is portraying the Sheriff of Nottingham. Check out Lionsgate's new Robin Hood trailer below.
Robin Hood Trailer
Otto Bathurst, who has directed episodes of Peaky Blinders and Black Mirror, is behind the camera this time making his mainstream feature directorial debut. And though Robin Hood legend has been around since the 1300s, Bathurst sees this as a particularly modern story. "In my mind, Robin Hood was this sort of seriously militarized anarchist revolutionary, a freedom thinker and a truth seeker," he said previously. "And the more I got into the story, it just became startling how utterly relevant it is to what's going on in society now."
Oscar-winning actor Jamie Foxx (Baby Driver, Collateral) is playing Little John, Robin Hood's friend and capable bruiser. The Knick's Eve Hewson stars as Robin's love interest, Maid Marion. Fifty Shades of Grey's Jamie Dornan plays Will Scarlett, one of the Merry Men and traditionally the best swordsman of the do-gooding gang. Joby Harold (King Arthur: Legend of the Sword) wrote the screenplay. Producer Basil Iwanyk once said that much of this movie was inspired by what Keanu Reeves did with a gun in John Wick, so we'll have to see if that influence really makes it through to the final film.
If this version doesn't do it for you, fear not: there are still tons of other Robin Hood movies in the works. There's a futuristic take, Warner Bros. has its own version...hell, we wrote an entire article last year about all of the different riffs that were in development at the time, so check that out for all the Robin Hood projects you can stomach.
The Taron Egerton-starring Robin Hood will shoot into theaters on November 21, 2018.