'Gotti' Trailer: John Travolta Is A Made Man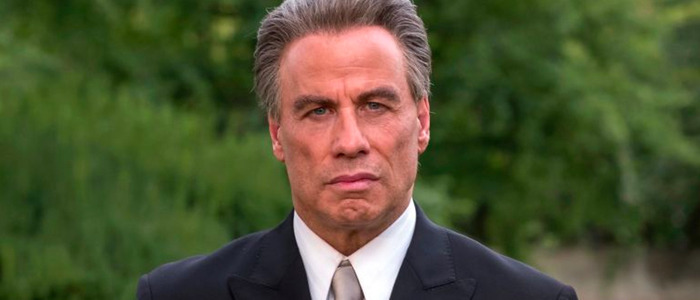 John Gotti was one of the most famous mafia bosses because unlike most other members of the mob, he embraced publicity and became a media sensation. Now Gotti's rise and fall are chronicled in the film Gotti, starring John Travolta as the infamous "Teflon Don". Watch the Gotti trailer below.
It's been a while since John Travolta had a chance to sink his teeth into a major role. Perhaps because of this, he appears to be going all-in with his performance in Gotti. I think Travolta is a very good – sometimes even great – actor. But boy is he chewing up some scenery in this trailer. Then again, the real John Gotti was a flamboyant personality, so perhaps going over-the-top is called for. Judge for yourself.
Gotti Trailer
Gotti reigned supreme in the 1980s and '90s as the head of the Gambino crime family, and went through three high-profile criminal trials – and was acquitted at each one. Eventually, Gotti's underboss Salvatore "Sammy the Bull" Gravano helped bring him down by turning state's evidence and testifying against the mafia kingpin.
This film has gone through several issues over the years. Nick Cassavetes (John Q, Alpha Dog) and Barry Levinson (Sleepers, Good Morning Vietnam) were both attached to direct at one point, and Ben Foster, James Franco, Joe Pesci, and Lindsay Lohan were all mentioned as potential cast members. Lionsgate was originally supposed to release the film in 2017. But the studio sold Gotti back to the producers, postponing the release. Now, Vertical Entertainment will release Gotti on June 15, 2018.
In addition to Travolta, Gotti stars Travolta's real-life wife Kelly Preston playing Gotti's wife Victoria. Other cast members include Stacy Keach, Pruitt Taylor Vince, Spencer Lofranco, William DeMeo, Leo Rossi, and Victor Gojcaj. Actor-turned-director Kevin Connolly helms the film.
This isn't the first time Gotti's exploits were adapted into a movie. In 1996, HBO produced another film called Gotti, starring Armand Assante as the crime boss. This looks like a slightly more high-profile production, although the HBO film had the benefit of being released very close to the actual events it was portraying.
GOTTI follows infamous crime boss John Gotti's (John Travolta) rise to become the "Teflon Don" of the Gambino Crime Family in New York City. Spanning three decades and recounted by his son John Jr. (Spencer Lofranco), GOTTI examines Gotti's tumultuous life as he and his wife (Kelly Preston) attempt to hold the family together amongst tragedy and multiple prison sentences. GOTTI is a crime drama directed by Kevin Connolly and written by Leo Rossi and Lem Dobbs.