Live-Action 'Swamp Thing' TV Series Coming To DC Digital Service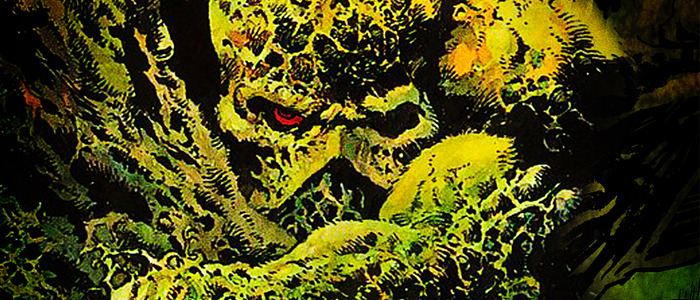 DC's digital service now has a name – DC Universe. And DC Universe now has a new addition – a live-action Swamp Thing TV series from executive producer James Wan. Wan is no stranger to DC: he's also helming the upcoming Aquaman. 
If you had told me there would be a live-action Swamp Thing TV series a few years ago, I would've chuckled and said, "No way." But here we are! We've known for a while now that DC was developing their own digital service. And now that digital service has a name: DC Universe. Programming for DC Universe already includes a revival of the animated series Young Justice; the adult animated show Harley Quinn; Metropolis, a live-action show focused on Lois Lane and Lex Luthor; and the live-action Titans. Now you can add a live-action Swamp Thing TV show to the list.
The Swamp Thing TV show will be written by Mark Verheiden and Gary Dauberman. Verheiden will executive produce the show with Aquaman director James Wan and Michael Clear. Wan offered some insight on Twitter, saying audiences can expect "mood, mystery, gothic romance and swamp monsters":
Here's a quick synopsis for the series.
When CDC researcher Abby Arcane returns to her childhood home of Houma, Louisiana, in order to investigate a deadly swamp-borne virus, she develops a surprising bond with scientist Alec Holland — only to have him tragically taken from her. But as powerful forces descend on Houma, intent on exploiting the swamp's mysterious properties for their own purposes, Abby will discover that the swamp holds mystical secrets, both horrifying and wondrous — and the potential love of her life may not be dead after all.
DC's Swamp Thing character was created by Len Wein and Bernie Wrightson in the 1970s. Here's how the character is described by the DC Wiki:
Swamp Thing is an elemental creature who shares a connection to all plant life on the planet Earth through a network called the Green. He is a mass of vegetable matter that absorbed the memories and personality of Alec Holland, a botanist who died in a swamp shortly after creating a hormonal Bio-Restorative Formula for plants. He is associated with the Parliament of Trees and the White Lantern Corps. Swamp Thing was created by Len Wein and Bernie Wrightson, first appearing in House of Secrets #92.
Swamp Thing made his big screen debut in a 1982 film directed by Wes Craven. There was also a sequel, 1989's The Return of Swamp Thing. Warner Bros. has been kicking around the idea of making a new Swamp Thing movie since 2014, and Annihilation director Alex Garland recently expressed interest in helming a Swamp Thing movie. In 2009, mega-producer Joel Silver said he wanted to revive Swamp Thing as a 3D movie, but it never came to pass.
Now Swamp Thing will find life again on DC's digital service. The show is expected to launch in 2019. DC Universe is set to launch later this year.