Hulu Renews 'The Handmaid's Tale' For Season 3 After Hitting 20 Million Subscribers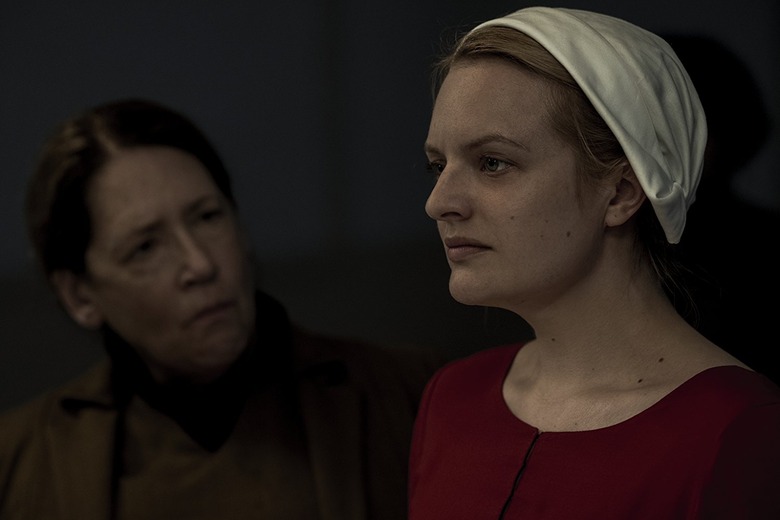 Praise be, The Handmaid's Tale is coming back for another season. Hulu has greenlit The Handmaid's Tale season 3, renewing the soul-crushing, Emmy-winning series just after the streaming service hit a whopping 20 million U.S. subscribers.
The Handmaid's Tale season 2 made a record-breaking premiere last week, drawing in double the audience numbers of the season 1 opener, according to Deadline. In lieu of the critical and commercial success of the Emmy and Golden Globe-winning show, it was no question that Hulu would renew The Handmaid's Tale for season 3.
This would take the series even further from the Margaret Atwood novel upon which it's based. The first season of The Handmaid's Tale ended where the book ended, and season 2 has been boldly striking out beyond its former creative limitations. I wrote in my review of the sophomore season of The Handmaid's Tale that the show was finally making strides to become its own show beyond Atwood's book.
Buoyed by its razor-sharp focus on its female characters, The Handmaid's Tale season 2 surpasses its first season. Though it does sometimes give in to the show's penchant for political awkwardness and has prolonged, miserable scenes that could rival Game of Thrones' torture porn, it seems like the Hulu series is all the better for stepping out from the shadow of Atwood's book.
But the series is so bleak that I wonder how far season 3 can go without losing its audience. Season 2 has already pushed the limit on emotional trials, and I imagine the third season would double down on the show's distressing mood. Elisabeth Moss and the rest of the cast continue to give brilliant performances, but season 3 would have to drastically change things up in order to maintain the show's critically acclaimed streak.
Hulu has consistently pushed complex, compelling original series like The Handmaid's Tale and this year's The Looming Tower, and it seems like Hulu's commitment to quality original content is paying off. The streaming service hit a major milestone this week, passing 20 million subscribers in North America.
Hulu CEO Randy Freer said of the encouraging numbers:
"Hulu is the complete TV experience for consumers, offering both live and on-demand programming and more consumer choice than ever before."
And Hulu will expand its slate of original content even more, picking up new series orders for Four Weddings and a Funeral and Ramy. These new series orders will join the highly anticipated upcoming Hulu originals Castle Rock, Catch-22, and Little Fires Everywhere.