'Cobra Kai' Will Feature Previously Unseen 'Karate Kid' Footage, And You Can See It Now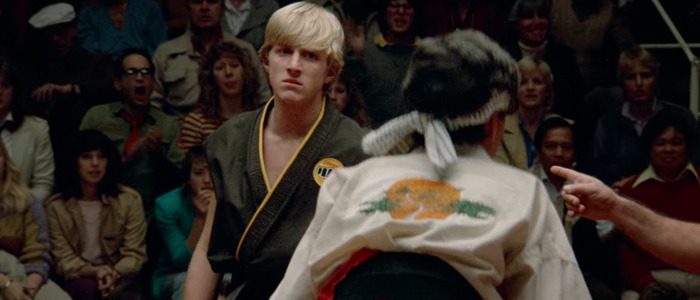 By now, you probably know the premise of YouTube Red's upcoming series Cobra Kai. It's a continuation of the story that began in the 1984 movie The Karate Kid, but flipping the script to make Johnny Lawrence – the wonderfully douchey villain played by William Zabka – into the sympathetic protagonist and turning the film's crane-kicking hero Daniel LaRusso (Ralph Macchio) into a big jerk.
The show picks up three decades after the fateful events of the Under-18 All-Valley Karate Tournament that provided the setting for the rousing climax of the '84 film, and in a new video, the series creators reveal some never-before-seen Karate Kid footage that they'll use to recontextualize that famous martial arts match for the new show.
In this video, executive producers Josh Heald, Jon Hurwitz, and Hayden Schlossberg explain how they crafted one entirely new shot of the old match for their show, a brief shot that focuses on a defeated Johnny after he's been bested by LaRusso's epic kick. But the coolest part is that they convinced someone at Sony Pictures to dig up footage from director John G. Avildsen's original movie that didn't make the final cut so they can use it in the show's opening moments. Check it out:
Never-Before-Seen Karate Kid Footage
They're absolutely right about the power of that close-up shot. Just that simple change in perspective completely alters the viewer's perception of the match, takes the wind out of Daniel LaRusso's victory, and gives us a little sympathy for Johnny Lawrence. We're going to need that sympathy, since the show follows Johnny as he reopens the old Cobra Kai dojo where he once studied and teaches a whole new generation of kids his particular brand of karate.
In the highly-anticipated return of two iconic characters, the arch-rivals from the legendary Karate Kid film series reunite over 30 years after the events of the 1984 All Valley Karate Tournament. Now living in the affluent hills of Encino, Daniel LaRusso (Ralph Macchio) leads an enviable life with his beautiful family, while running a successful string of car dealerships throughout the valley. Meanwhile, his high school adversary, Johnny Lawrence (William Zabka), whose life has taken a rocky turn, seeks redemption by reopening the infamous Cobra Kai karate dojo. Their lives inevitably become intertwined and the rivalry is reignited, setting forth the next generation of "karate kids" in COBRA KAI, a YouTube Red Original Series.
Cobra Kai arrives on YouTube Red tomorrow, May 2, 2018.