Alexandre Aja And Sam Raimi Team For Horror-Thriller 'Crawl'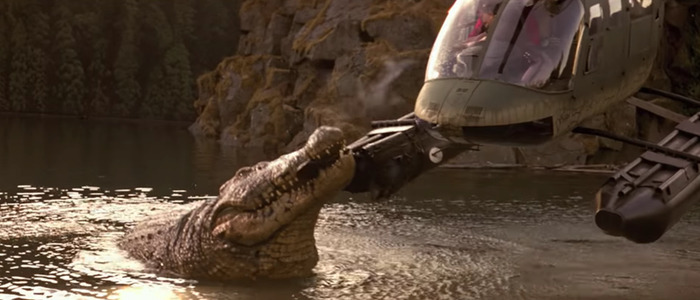 A Quiet Place was a big horror hit, so now Paramount wants more scary movies to strike box office gold. Enter Crawl, a new horror-thriller produced by Evil Dead filmmaker Sam Raimi and directed by High Tension director Alexandre Aja. The film focuses on a woman trapped in a house during a hurricane, and being forced to deal with fierce predators. More on the Crawl movie below.
The horror business is booming, and that's a good thing. Last year saw films like Get Out and It becoming bonafide blockbusters, and this year has seen the success of A Quiet Place. Paramount, who distributed A Quiet Place, wants more of that sweet, sweet horror success, and who can blame them? The Hollywood Reporter reveals that Paramount will release the "self-contained" horror film Crawl, which is said to be low-budget and thus pretty much a sure-fire box office hit if they market it right. Alexandre Aja, who directed High Tension and The Hills Have Eyes remake, is going to helm the film. Horror master Sam Raimi is set to produce.
The story "centers on a young woman who, while struggling to save her father during a Category 5 hurricane, finds herself trapped inside a flooding house and fighting for her life against Florida's most savage and feared predators." THR doesn't say what those "savage and feared predators" are, but ComingSoon seems pretty sure we're talking about alligators here. So there you have: this is a movie about a woman fighting off both a hurricane and some alligators. And maybe some other nasty creatures, too.
Shawn and Michael Rasmussen, who wrote the John Carpenter film The Ward, wrote the initial script for the film. Aja has since rewritten their draft. Aja is a fairly good director when it comes to style – he often crafts slick-yet-gritty looking films with a nasty streak. But I'm a little so-so on his storytelling. High Tension was almost a great movie until an utterly ludicrous final twist destroyed everything that came before it, and his Hills Have Eyes remake felt like it was ultimately missing something. But I really like the idea behind this film – one woman facing off against the elements. There's a lot of room there for something great, especially if Aja can land a particularly strong actress for the part. I also love that Sam Raimi is involved in this, if only as a producer. Maybe someday he'll decide to return to horror filmmaking as well.
No release date is set for Crawl, but I'd expect the turnaround time to be quick enough that we might end up seeing it in 2019.