Netflix's 'Failsafe' Reunites Michael B. Jordan With 'Black Panther' Writer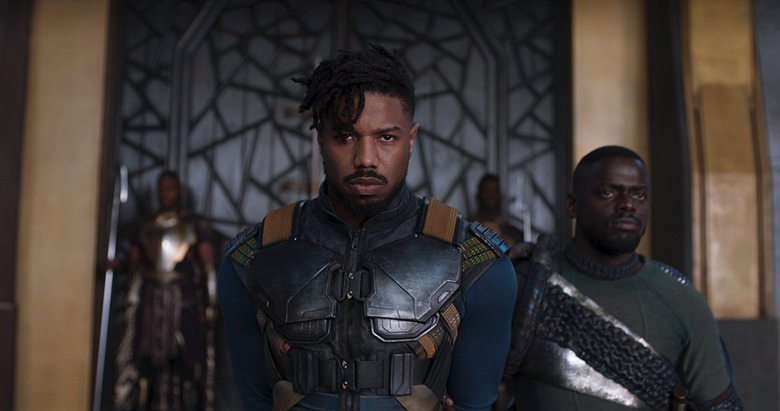 Killmonger was one of the greatest, most nuanced villains to come out of the Marvel Cinematic Universe, so it's sad to know that he won't return. But there's one good thing to come out of Michael B. Jordan's tour-de-force performance in Black Panther: he's not lacking for work.
Jordan has been signing up for project after project, so we can count on seeing his talented face on the big and small screen for the foreseeable future. And his latest project is a doozy: Jordan will reunite with his Black Panther co-writer Joe Robert Cole in Netflix's adaptation of Failsafe.
Jordan gets a lot of credit for giving us the best Marvel villain in recent memory. But credit should also be given to Cole, who co-wrote Black Panther with director Ryan Coogler and won an Emmy for The People v. O. J. Simpson, for helping to craft the uncomfortably sympathetic antagonist.
Now, the two will be teaming up again for Failsafe, a film adaptation of an indie comic by F.J. DeSanto and Todd Farmer, according to Deadline. Cole will be penning the adaptation, while Jordan is producing through his company Outlier Society Productions and potentially starring in the project.
Here is the synopsis of Failsafe, per Deadline:
The protagonist is John Ravane, a legendary insurgent hunter who thought he had executed the last nanotech-enhanced super soldier, in a personal battle that included the kidnap of his daughter. A decade later, it becomes clear that sleeper agents scattered around the country are activating, in an attempt to take over New York, and the government leader who pressed him into duty last time has been exposed as corrupt.
The project was just picked up by Netflix, which won the rights in a bidding war that was reportedly in the seven figure range.
Failsafe is a relatively small title that was first published in April last year, but sounds like a fascinating sci-fi thriller with a juicy title role that would be perfect for Jordan to stretch his dramatic chops. Jordan seems to be drawn to internally conflicted anti-heroes who struggle with the burdens of society and its expectations. You can see it in his more heroic roles in Creed or Fruitvale Station, and, of course, as Erik Killmonger.
Jordan follows up his powerhouse performance in Black Panther with starring roles in HBO's Fahrenheit 451 and Creed 2. It's yet to be seen whether he'll star in Failsafe, but we'll keep our fingers crossed.