Lucasfilm Congratulates Marvel Studios On Their New Box Office Record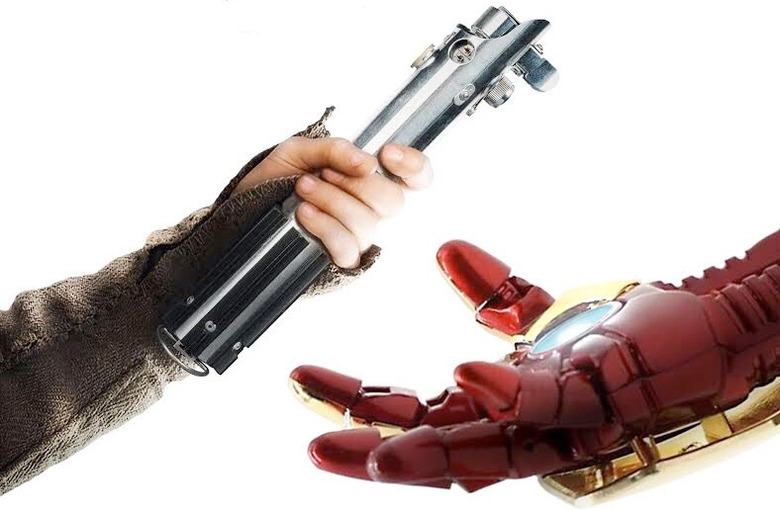 In case you hadn't heard, Avengers: Infinity War made a little bit of money at the box office last weekend. The Marvel sequel earned enough to smash the record for the biggest opening weekend of all time, previously set by Star Wars: The Force Awakens in 2015. In fact, it smashed all sorts of records all over the world. And that meant Lucasfilm had to pass the baton.
It has become tradition for whoever smashes box office records to receive some kind of congratulations from the previous record holder. It's a tradition George Lucas and Steven Spielberg started as the directors frequently exchanged titles thanks to the success of Jaws, Star Wars, and E.T. The Extra Terrestrial. But it's been kept alive in recent years as well, and Lucasfilm has now continued the tradition by passing the baton, or rather the lightsaber, to Marvel Studios.
See how Lucasfilm congratulates Marvel Studios below.
Congratulations, @MarvelStudios and @Avengers: #InfinityWar. pic.twitter.com/PnHfaouOlP

— Star Wars (@starwars) May 1, 2018
The above tweet came yesterday evening featuring Rey handing off Luke Skywalker's lightsaber into the armored hand of Iron Man. He's likely not going to throw it over a cliff the way Luke did, but will display it right next to his original arc reactor that proves Tony Stark actually has a heart.
What's a little strange is that while Lucasfilm and Marvel Studios are two separate companies with their own successes and endeavors, they're also both owned by Disney. So this feels a little self-congratulatory. But even so, you can't deny that the House of Mouse has earned such glory by letting each of the production companies do what they do best with minimal interference. That's what has made them more successful.
Anyway, here are some of the ads that Steven Spielberg and George Lucas exchanged over the years: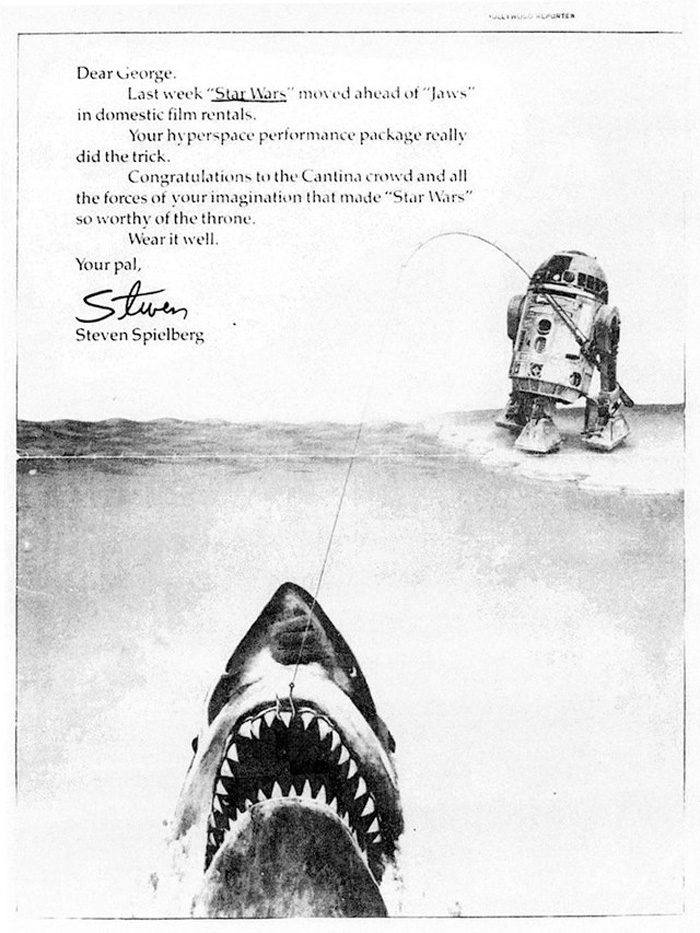 Above, you'll see the ad that appeared in The Hollywood Reporter when Star Wars surpassed the massive success of Jaws.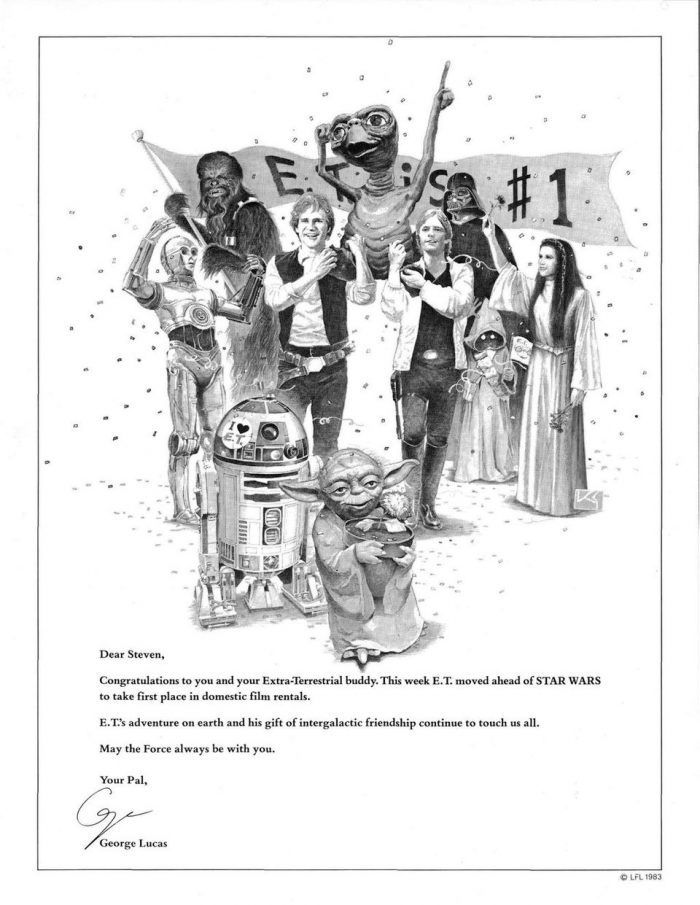 Then Star Wars congratulated E.T. for taking the top spot in domestic film rentals back in 1983.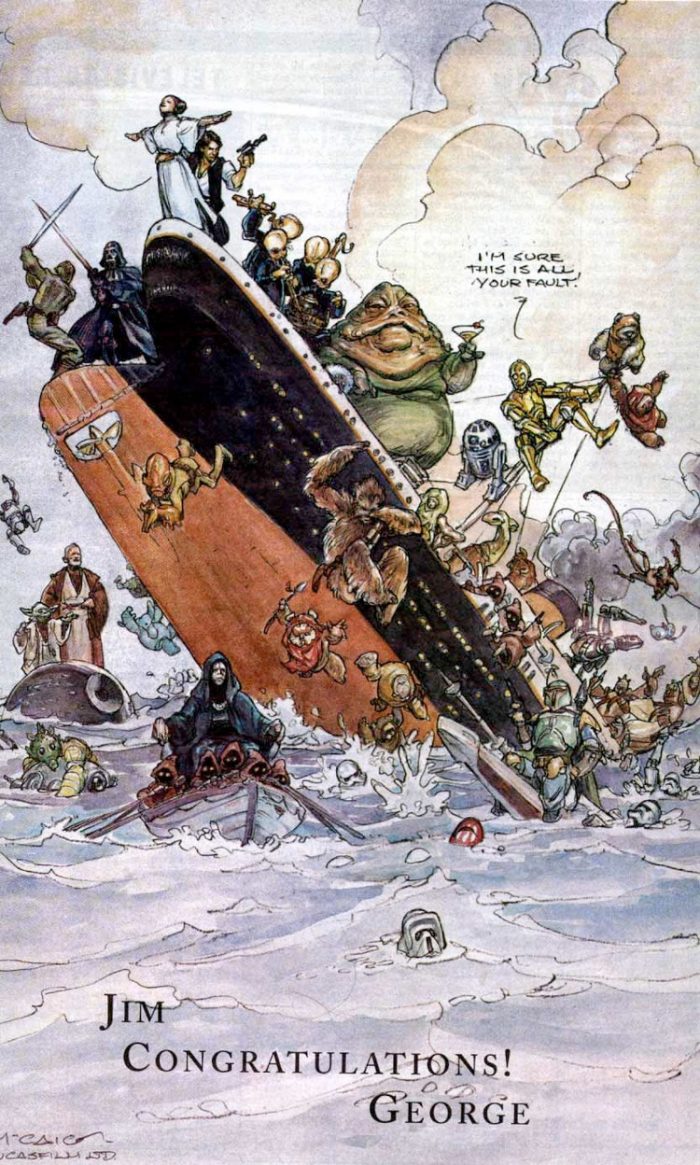 Much more recently, Star Wars had to dole out congratulations to James Cameron and Titanic for topping the reissue of the original Star Wars trilogy on the box office charts. This might be the best one out of them all, but you can judge for yourself by seeking out some of the other ads that have been placed in the entertainment trades over the years to congratulate the new champ.
Will Avengers: Infinity War ever be dethroned from the #1 spot? Is there any movie in the near future that will be able to topple the massive Marvel sequel? Only time will tell.