'Teen Titans Go! To The Movies' Trailer: The Justice League Ain't Got Nothing On Them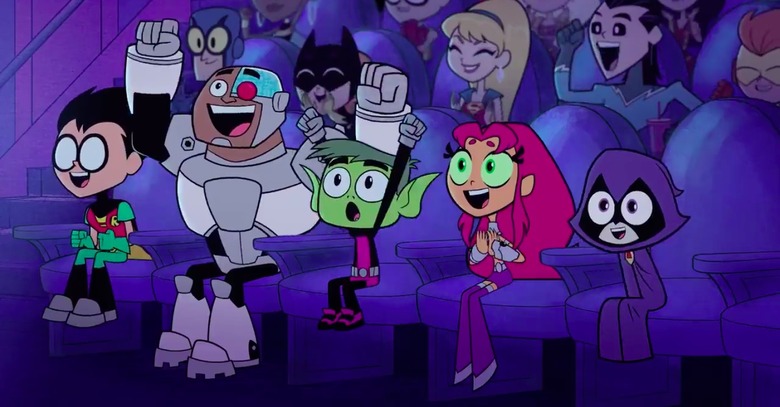 Move over Justice League, it's the Teen Titans' time to shine. The diminutive superhero team has just been featured in a slew of posters and a new trailer in anticipation of their feature film debut, Teen Titans Go! To the Movies. And it's just as troll-y as you'd expect. Below, watch the new Teen Titans Go to the Movies trailer.
Teen Titans Go to the Movies Trailer
There's plenty of kid-friendly fare that's coming to the theaters this summer, and Teen Titans Go! to the Movies definitely looks like it will distract your kids for a solid two hours. The jokes run a mile a minute and the action is non-stop — so much so that it almost feels like a sensory overload. But that's the whole point of Teen Titans Go!, which was the kid-friendly spin-off of the more serious and narrative-driven Teen Titans animated series. I'm still a bit miffed that we're not getting a movie adaptation of that Teen Titans show, but you win some, you lose some.
The story follows the Teen Titans – Robin (Scott Menville), Starfire (Hynden Walch), Raven (Tara Strong), Cyborg (Khary Payton), and Beast Boy (Greg Cipes) – trying to get their big pop-culture break by seeking out a popular Hollywood director (Kristen Bell). But they're foiled by an old foe, Slade (Will Arnett).
Along with the new trailer come some classic tongue-in-cheek posters, featuring the other DC Comics team that we recently saw in theaters. But unlike the last Teen Titans Go! to the Movies trailer which saw each of the teen members paying homage to Wonder Woman, they have a decidedly more snide approach to their live-action colleagues.
So funny! So snarky! But making light of the Justice League may actually be a genius marketing idea, considering the numbers that the DCEU film brought to the box office.
Here is the official synopsis for Teen Titans Go! to the Movies:
A villain's maniacal plan for world domination sidetracks five teenage superheroes who dream of Hollywood stardom.
Teen Titans Go stars Scott Menville, Khary Payton, Hynden Walch, Greg Cipes, and Tara Strong reprise their roles from the series. They're joined by Kristen Bell, Will Arnett, and big-name stars like Nicolas Cage as Superman, singer/songwriter Halsey as Wonder Woman, and rapper Lil Yachty as Green Lantern.Teen Titans Go! to the Movies opens in theaters on July 27, 2018.