LOL: 'The Good Place' Writer Megan Amram Is Trying To Win An Emmy With A Very Meta Web Series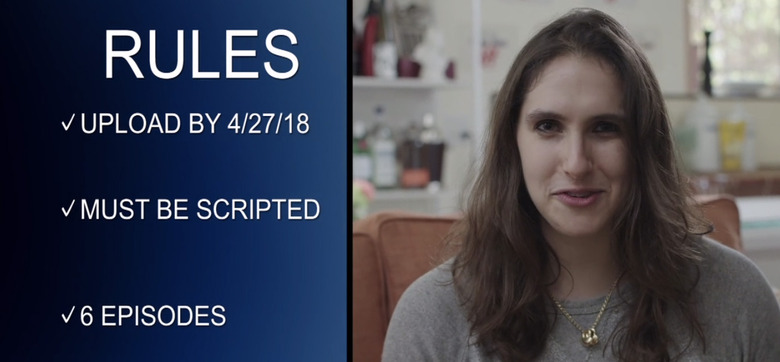 The Emmy is a coveted award among television talents both in front of and behind the camera, but there are varying levels of Emmys among the various kinds of media out there. One of the Emmy categories created by the Academy of Television Arts & Sciences rewards short-form series, which basically allows any Tom, Dick or Harry to be eligible (though not necessarily deserving) for an Emmy with an iPhone, some basic editing software and a decent internet connection at their disposal.
The Good Place writer Megan Amram is hoping to win an Emmy in that category by adhering to the rules of eligibility for that category as close as possible with a new web series called An Emmy for Megan, which is all about Megan Amram trying to win an Emmy for Best Actress in a Short Form Series.
Watch An Emmy for Megan
The series begins with the first episode above where Megan Amram, playing a fictionalized version of herself, lays out exactly what inspired her to go for the golden statue. With the easy requirements of just six episodes posted on line, each lasting less than 15 minutes, this is the easiest way for anyone to win an Emmy, and that's exactly what Megan Amram is hoping for. She told Uproxx that she's dead serious about trying to win an Emmy with this series:
"My desire is overwhelmingly sincere. As sincere as anything I've ever set out to do. It's less about the category and more about the award. I would really love an Emmy award. A lot of my friends have them, and they seem great. The awards, not my friends. I think my friends from home would think it was really cool if I won. I don't have any major awards and I think me winning this Emmy would make up for Steve Carell and The Wire being snubbed."
If this is your first time hearing about Megan Amram, she's undoubtedly made you laugh with her work as a writer on shows like Parks and Recreation, Silicon Valley and more. She also has a pretty damn hilarious Twitter feed that you should follow along with the other 1.13 million followers she's amassed over the years.
You can watch the rest of the episodes of An Emmy for Megan over here, so give them a watch and keep an eye out for appearances from D'Arcy Carden (who plays the helpful Janet on The Good Place) and celebrity voice cameos by the likes of Ted Danson, Seth Rogen, Jimmy Kimmel and more who stand behind her endeavor. Honestly, this is so clever and crazy that it just might work.