'American Gods' Season 2 Teaser: Filming Begins On A "Darker," And "More Dangerous" Season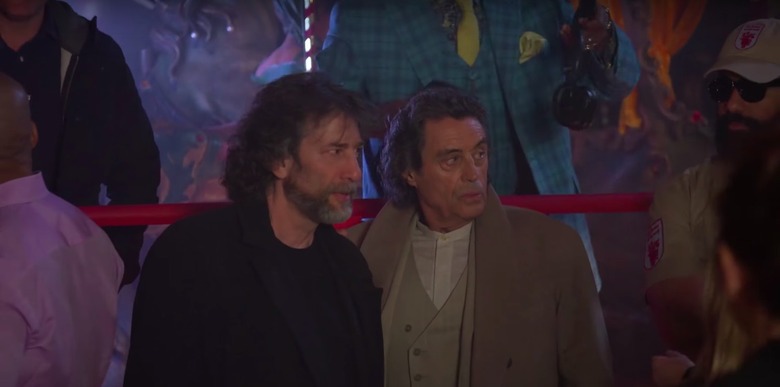 It must be divine providence, because American Gods is finally coming back to our TV screens. After the first season of the Starz fantasy series made a splash in 2017, the adaptation of Neil Gaiman's beloved novel experienced some behind-the-scenes conflicts that resulted in showrunners Bryan Fuller and Michael Green departing the series and Jesse Alexander taking the helm.
Now, a new American Gods season 2 teaser has arrived, marking the start of production for the ambitious fantasy series.
American Gods Season 2 Teaser
Prepare for war. #AmericanGods Season 2 is coming to @STARZ in 2019. pic.twitter.com/AiAfbcVaL1

— American Gods (@AmericanGodsSTZ) April 30, 2018
The set you've been waiting for is here: It's the Biggest Carousel in the World at the House on the Rock. It's as gaudy, surreal, and weird as fans of the novel would expect, and the perfect place to kick off a new season of American Gods, which saw the various gods gearing up for war in the season 1 finale.
As Mr. Wednesday (Ian McShane) convinced Easter (Kristin Chenoweth) to temporarily end spring in a first shot fired in the war between the new and old gods, we saw Yetide Badaki's Bilquis on a bus headed to House on the Rock, a strange tourist attraction that may be more than meets the eye. Filled with garish oddities, including a sprawling home, a huge diorama of two sea creatures battling each other, and what is billed at the world's largest carousel, the House on the Rock exists in a kind of liminal space reserved for only the most mundane locations in America. And, following the arc of the book, a significant portion of season 2 will take place there.
American Gods shot on location, and the teaser video announcing the start of production shows exactly what that location is like: bustling, vibrant, and eclectic. "Things are going to get darker. Things are going to get more dangerous," American Gods executive producer Gaiman promises in the video.
The author also tweeted a photo of himself and new co-showrunner Jesse Alexander with the returning cast of American Gods.
Me? What am I doing? Oh, just hanging out with gods and mortals at the House on the Rock. Why, yes, that is the Biggest Carousel in the World. Nothing special. (YES, IT WAS AMAZING. YES, IT WAS AS AMAZING AS YOU WOULD THINK.) @GodsOnAmazon @AmericanGodsSTZ pic.twitter.com/BhLEPLTp7d

— Neil Gaiman (@neilhimself) April 30, 2018
Returning for season 2 of American Gods are Ricky Whittle as Shadow Moon, Ian McShane as Mr. Wednesday, Emily Browning as Laura Moon, Pablo Schreiber as Mad Sweeney, Orlando Jones as Mr. Nancy, Yetide Badaki as Bilquis, Bruce Langley as Technical Boy, Crispin Glover as Mr. World, Cloris Leachman as Zorya Vechernyaya, Peter Stormare as Czernobog, Mousa Kraish as The Jinn, Omid Abtahi as Salim, Chris Obi as Anubis, and Demore Barnes as Mr. Ibis.
Gillian Anderson and Kristin Chenoweth, both frequent collaborators with former showrunner Bryan Fuller, left the series following Fuller's departure. Anderson's role of Media will be recast as New Media, who will look like a young Asian woman.American Gods season 2 will premiere on Starz sometime in 2019.