'Avengers 4' Title Speaks To The Heart Of The Story; Marvel Studios Already Planning 2025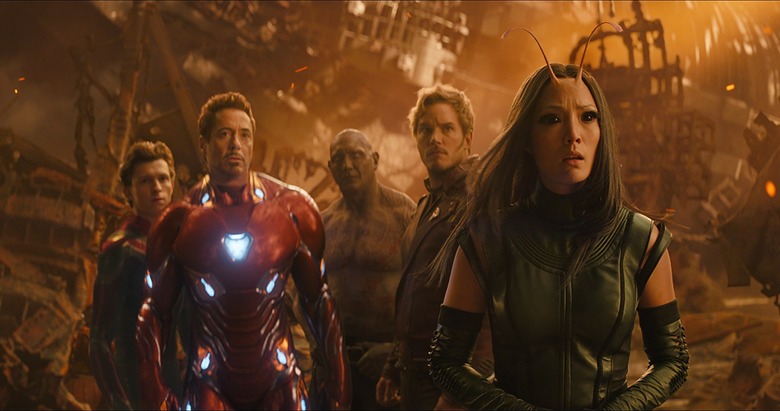 The team behind Avengers: Infinity War has teased and taunted us with the still-unannounced Avengers 4 title for months. Now, three days after the release of the third Avengers film, we still have no clue what the sequel will be titled. Sure, we've joked about potential Avengers 4 titles, but our theories amount to nothing if directors Joe and Anthony Russo don't give us more of a hint than "it will wreck you." But with a year left of twiddling our thumbs until Avengers 4 opens in theaters (sorry Ant-Man and the Wasp), we're going to have plenty of time to dig into our more theories.
Avengers 4 Title
No amount of money can loosen the Russo brothers' lips when it comes to the Avengers 4 title — even as Infinity War smashes box office records to the tune of $630 million worldwide. No, the Russo brothers are going to stick with the cryptic hints, telling Bustle:
"We do have a name for it, we're just not announcing it ... and I think we came to that name fairly early in the development process. It speaks to the heart of the story."
The title of Avengers 4 has been kept under a tight lid for fear of spoilers — but the secrecy has become so all-consuming that Marvel Studios president Kevin Feige has admitted that the strategy has "backfired."
"[Now it] will have no chance [of] living up to any expectations of what it's gonna be," Feige told IGN. So from now on, the cast and crew of Avengers 4 have to tread carefully whenever they talk about the highly anticipated film. Which will be difficult since the cliffhanger ending of Infinity War will make Avengers 4 the only thing anyone will want to talk about.
In an interview with The Hollywood Reporter, screenwriters Christopher Markus and Stephen McFeely teased an even bigger — and potentially more devastating — Avengers 4. "Because boy, Avengers 4, if anything, is better than what you just saw," McFeely said. "And bigger," Markus added.
The two of them are moving on from the Marvel Cinematic Universe after Avengers 4 to start their own company, but Markus and McFeely said they would be open to returning to the MCU. "We would love to go back to Marvel at some point, if they'll have us," McFeely told THR. "But we have this weird, new job where we get to help out a lot of other projects and write our own. It's really sort of a dream scenario. If it doesn't kill us, we'd like to try it for awhile."
Marvel Plans to 2025
The Marvel Cinematic Universe may have just hit a major milestone with Infinity War, celebrating its 10-year anniversary with a bang, but Kevin Feige is already looking seven years ahead. Even as the MCU's next phase remains a mystery after 2019's Avengers 4, Feige and the Marvel team have already started planning the slate for 2024 and 2025. He told the Associated Press:
"They don't even know what's coming. We're always thinking ahead. Just when people think they can pin us down, we go somewhere else and that's going to happen again after Infinity War in the build-up to the next Avengers film. And we had meetings earlier today about 2024 and 2025."
We still have no idea what's coming. But that doesn't mean we can't try to guess.