'The Simpsons' Is Officially TV's Longest-Running Primetime Scripted Series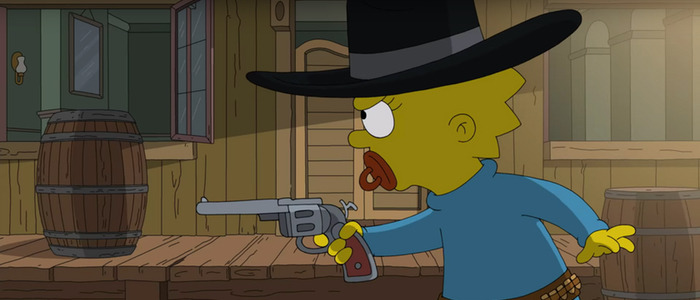 The Simpsons just hit a historic milestone: it beat Gunsmoke to become the longest-running primetime scripted series on television. Will this animated series ever end? Who the heck knows! Watch a Simpsons Gunsmoke parody below!
The Simpsons is currently on season 29, and good lord is that alarming. I can actually remember when The Simpsons first began, which means I am old as hell, and I'm not enjoying that realization. The FOX animated series has been on so damn long that it just broke a record to become "television's longest-running primetime scripted series." The previous holder of this title was the TV Western Gunsmoke, which ran for a whopping 635 episodes. The Simpsons' recent episode "Forgive and Regret" was the 636th episode of the series, thus knocking Gunsmoke off its high-horse to take the record.
To celebrate this momentous occasion, The Simpsons put together this Gunsmoke-inspired opening parody.
The Simpsons Gunsmoke Parody 
While this milestone is certainly impressive, I also feel like it's safe to say that The Simpsons has maybe, just maybe, overstayed its welcome. I'm not Simpsons hater: I will always cherish the series for the first 10 or so perfect seasons. Those first seasons of The Simpsons were game-changing, and influenced me in ways I can't even begin to describe. In addition to that, no matter how many times I've watched the episodes of those first few seasons, the jokes always make me laugh. The humor is smart as hell, and there's a real heart to most of those early episodes.
And then at some point, the series ran out of steam. If your show is running for 29 seasons, that's sort of inevitable. No show can sustain its quality for such a lengthy period of time, it's just not possible. Still, every now and then The Simpsons will deliver a good modern episode. But I sincerely think it's time for the show to end its long-running reign.
I doubt anyone at FOX agrees with me though. Even though the show's ratings have steadily declined over the years, FOX seems determined to keep the series going. And the show will keep breaking records as a result. In addition to this latest milestone, a trip over to Wikipedia reveals the show is "the longest-running sitcom (animated or live action) in the United States", and that the series is "now recognized by Guinness World Records as the world's longest running sitcom (in terms of episode count)." Quality aside, that's pretty darn impressive.