'Kevin Smith: Silent But Deadly' Teaser: Kevin Smith's Stand-Up Show From The Night Of His Heart Attack Is Coming To Showtime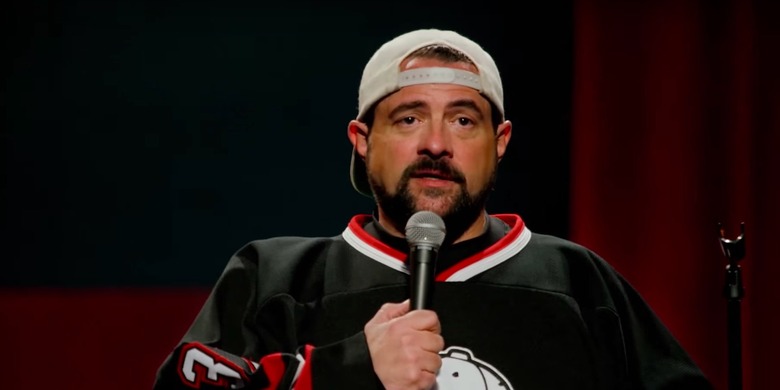 Two months ago, we almost lost a comedy great. But Kevin Smith is recovering from his brush with death and better than ever, adopting a plant-based diet and losing 32 pounds since his massive heart attack in February.
But before we move forward, Showtime wants us to look back — at the night that Smith suffered his near-fatal heart attack. The network is premiering the stand-up special that Smith performed the night he suffered his "widowmaker" heart attack on February 26. You can get an idea of what the special entails with the new Kevin Smith Silent But Deadly teaser.
Kevin Smith Silent But Deadly Teaser
Perhaps the title is a little too on-the-nose. However, Smith didn't seem to mind when Showtime picked up the special earlier this month, writing on Twitter, "The comedy special I was shooting with [Comedy Dynamics] the night I almost died of a heart attack has been picked up by Showtime! Mark your calendars: It airs MAY 11th on the same network as [Homeland]! Thanks for the home, Showtime!"
It seems like a fitting home for Smith's first comedy special in six years – the last installment of his five-part Q&A series aired on Epix in 2012. Showtime has already released several teasers for the comedy special, the latest of which includes Smith riffing about his diet. That part feels mildly prophetic, as Smith would be rushed to the hospital later that night for the often-unnoticed "widowmaker" heart attack, an artery blockage so severe that it starves the heart muscle of oxygen, triggering an abnormal heart rhythm that sometimes leads to cardiac arrest.
Since then, Smith has proudly espoused the plant-based diet that helped him lose 32 pounds since the emergency heart surgery. In his first interview since he was released from the hospital, Smith said that he plans to lose 50 pounds.
"This is the weight I was when I met my wife, so this is a good weight to be at. Last time I was at this weight, I scored, big time," he said. "I joined Weight Watchers, and they made me an ambassador. It's me, Oprah and DJ Khaled, I'm in pretty good company."
The director also claimed "the heart attack was the best thing to ever happen to me," saying he "feels great."
See the other Kevin Smith: Silent But Deadly teasers below.
Kevin Smith: Silent But Deadly premieres May 11, 2018 on Showtime at 9 p.m. ET/PT.