Cool Stuff: Hot Toys Unveils 'Avengers: Infinity War' Hulkbuster Figure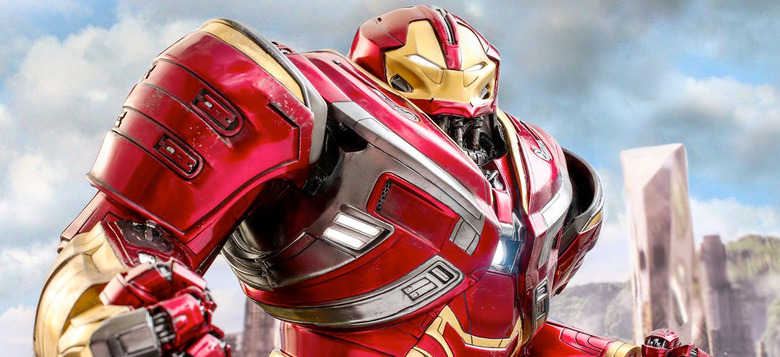 We've seen Tony Stark's big ole Hulkbuster armor before when the Hulk needed to be taken down a couple notches after Scarlet Witch messed with his head in Avengers: Age of Ultron. But a new version of the Hulkbuster armor debuted in Avengers: Infinity War to assist in the final battle in Wakanda against Thanos' Black Order and an invading army of aliens.
For fans who want to bring home the new Hulkbuster armor, Hot Toys has you covered with a new sixth scale figure of the upgraded armor suit. Since the Avengers Infinity War Hulkbuster armor was designed to tangle with Hulk, it's significantly bigger than the normal sixth scale figures of the rest of The Avengers. Check it out below.
Hot Toys Avengers Infinity War Hulkbuster Figure
Here's the official product description from Hot Toys:
The long awaited Avengers: Infinity War has finally hit the big screen. Ten years in the making, the Marvel Cinematic Universe is coming to a head when its super heroes come together for battle against the Mad Titan himself. As one of the most powerful suits in Iron Man's arsenal, the Hulkbuster armor is coming back to protect Wakanda from Thanos's invading army!
In response to the immense fame of this enormous machine, Hot Toys is thrilled to officially introduce today the spectacular Hulkbuster 1/6th scale Power Pose collectible figure, which has been eagerly awaited by fans after it made its debut at the Avengers: Infinity War exhibition powered by Hot Toys.
The screen authentic vinyl-made collectible figure under Power Pose series is specially crafted based on the appearance of Hulkbuster in Avengers: Infinity War. This colossal figure stands approximate 50cm tall with 18 LED light-up functions scattered throughout the armor with awesome details, it is meticulously painted in iconic metallic red, gold and silver with weathering effect, two pairs of interchangeable hands including a pair of fist and a pair of relaxing hands, semi-articulated body with the ability to perform head, arms, wrist and waist movements.
You can pre-order the Avengers Infinity War Hulkbuster figure right now at the Hot Toys website. If you pay in one lump sum, it'll cost you $430. Or you can do a payment plan for as low as roughly $55 a month.