A Third 'Annabelle' Movie Is Coming Next Year With 'It' Co-Writer Set To Direct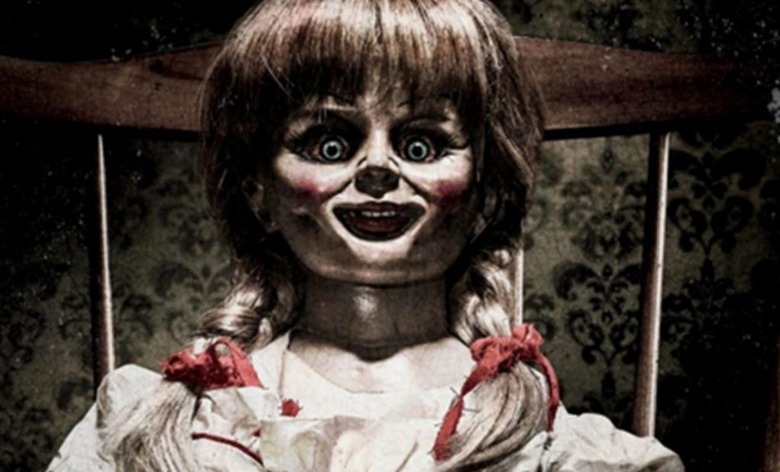 The evil Annabelle doll will be coming back to haunt us in 2019. New Line Cinema has set a 2019 release date for Annabelle 3, which will be helmed by It co-writer and Annabelle writer Gary Dauberman.
Dauberman will make his directorial debut with Annabelle 3, the third film in the Annabelle series and sixth in the wildly successful The Conjuring horror franchise.
Entertainment Weekly reports that the puppet master behind The Conjuring series, James Wan, is prepping the third Annabelle film for a July 3, 2019 release. Dauberman will step up to write and direct the currently untitled Annabelle 3 after playing a key role in shaping the Conjuring universe. In addition to penning both Annabelle and its sequel Annabelle: Creation, he also wrote Corin Hardy's The Nun, which is set to open in theaters this September.
Dauberman was also part of the team behind New Line's massively successful It adaptation which broke box office records for an R-rated horror film in September. Dauberman seems to be a New Line favorite, working on It: Chapter 2, and now stepping into the director's chair for Annabelle 3. He will also be writing and producing the feature film adaptation of the horror anthology series Are You Afraid of the Dark? for Paramount.
The monster success of the first two Annabelle films — at $257 million and $306.5 million worldwide with $5 million and $15 million budgets, respectively — has encouraged New Line to fast-track the development of the third Annabelle film to next year. The film will be produced by Wan's Atomic Monster and the Peter Safran Company for New Line and Warner Bros.
Details for the third Annabelle film are under wraps, but the story will once again focus on the demonically possessed doll who was first introduced in the 2013 surprise hit The Conjuring. It's also uncertain whether this film will be another prequel like last year's Annabelle: Creation, or a continuation of the story seen in the first Annabelle.
The Nun opens in theaters on September 7, 2018. Annabelle 3 hits theaters on July 3, 2019.