'Black Mirror' Season 5 Will Have Another '80s Episode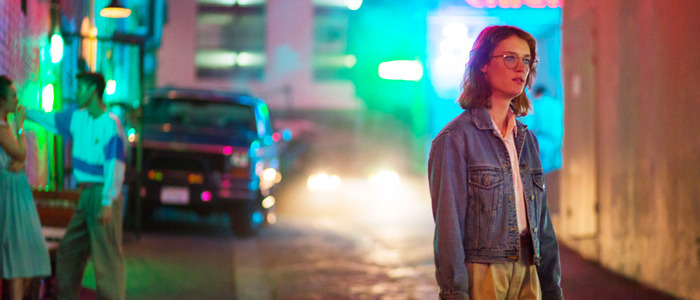 Black Mirror season 5 is going back to the 1980s! The last time the dark sci-fi anthology series dipped into that decade, it presented us with its very best episodes: "San Junipero." Ooh, baby, do you know what that's worth?Black Mirror season 5 is in the midst of shooting right now, and some set photos have popped up showing several locations fabricated to look straight out of the 1980s. There's even a Blockbuster Video! (Ask your parents if you don't know what that is.) Click here to see the photos. The episode in question is titled "Bandersnatch" (at least for now). That title comes from Lewis Carroll's 1872 novel Through the Looking-Glass, and refers to a creature "with a long neck and snapping jaws, and both works describe it as ferocious and extraordinarily fast." Feel free to speculate wildly as to how that might tie into the episode.
One of Black Mirror season 4's episode, "Black Museum", revealed that a majority of the Black Mirror episodes all co-exist within the same universe. Season 5 seems to keep that theme going. There are references in the photos to episodes like "Men Against Fire", "U.S.S. Callister" and "White Bear." Of course, the '80s-theme instantly conjures up memories of the all-time-best Black Mirror episode, "San Junipero." While this episode likely isn't a "San Junipero" sequel, Black Mirror creator Charlie Brooker has discussed the possibility of a "Junipero" follow-up episode in the past.
"We've thought about it," Brooker said, adding:
"I think we almost might do it in a completely different form if we were doing a straight sequel, if that makes sense. Maybe not even as a normal episode...We do like to drop Easter eggs every so often in other episodes, so we may be referring to San Junipero again...It's difficult because I don't think we'd revisit those characters. That felt like such a story and we wouldn't want to open it up again."
Black Mirror season 5 will likely bring about more of the digital-inspired anxiety and horror from previous season. Beyond that, we don't know much about the upcoming season. Netflix announced season 5 back in March, and there's no official release date yet. If season 5 is going to arrive this year, I imagine we won't see it until the end of 2018. Maybe December. Season 4 dropped onto the streaming service on December 29, 2017.
Black Mirror is an anthology series that taps into our collective unease with the modern world, with each stand-alone episode a sharp, suspenseful tale exploring themes of contemporary techno-paranoia. Without questioning it, technology has transformed all aspects of our lives; in every home; on every desk; in every palm – a plasma screen; a monitor; a Smartphone – a Black Mirror reflecting our 21st Century existence back at us. The series is created and written by Charlie Brooker, and executive produced by Brooker and Annabel Jones.