Steven Spielberg's 'West Side Story' Remake Is Holding An Open Casting Call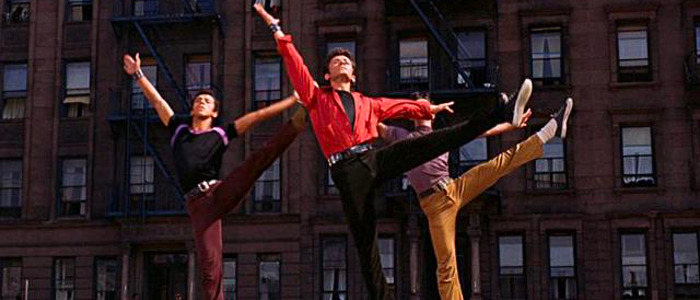 Listen up, potential Sharks and/or Jets – here's your chance to audition for Steven Spielberg's big West Side Story remake. The film is holding an open casting calling in New York City this weekend. More on the West Side Story remake casting call below.
Are you excited to see Steven Spielberg's West Side Story? I'll do you one better: are you excited to be in it? Well, here's your golden opportunity. ComingSoon reports an open casting call for the film will be underway in New York this week. Casting directors are looking to fill the roles of "Maria, Anita, Bernardo, Tony and Riff. Maria and Anita are Latina, Bernardo is Latino, and Tony and Riff are Caucasian. Those auditioning should be between 15 and 25 years old. They must be able to sing, and a strong dance background is required."
Here's the info on the time and location of the casting call:
Sunday, April 29, 2018
9:00 a.m. – 12:00 p.m.
Julia De Burgos Performance and Arts Center
1680 Lexington Avenue
New York, NY 10029
But what if you're not close to New York City? What if you're in, let's say, Florida, and still want a chance to land a part in a new Steven Spielberg film? You're in luck! There's going to be another casting call for the same parts on May 5 from 9 a.m. to 12 p.m. at Spotlight Dance Center, 7751 Kingspointe Parkway, Suite 102, Orlando.
Spielberg has been looking to remake West Side Story for at least 15 years. Now, the project is finally coming together, with Tony Kushner handling the script. "I am not touching in any way the greatest score of a musical ever written," said Kushner. "I love the [1961] film. Who doesn't? I am not changing the story, the setting, the period. It is still the Upper West Side in the late 1950s, but I'm exploring the story...I'm interested that we see love at first sight, as opposed to lust as it first sight. By the time they're singing 'Maria' and 'Tonight' things are at a much deeper plane than just two horny kids."
The original West Side Story opened in 1961, adapted from the 1957 Broadway. The story is inspired by Romeo and Juliet, focusing on two star crossed lovers caught up in the middle of a rivalry between two gangs, a white gang called the Jets and a Puerto Rican gang called the Sharks. Here's the 1961 film synopsis:
A musical in which a modern day Romeo and Juliet are involved in New York street gangs. On the harsh streets of the upper west side, two gangs battle for control of the turf. The situation becomes complicated when a gang members falls in love with a rival's sister.
Spielberg has said from the start that the casting is very important to the film, and he very much wants Latino and Latina actresses. He began holding auditions back in January, and stressed that whomever plays Maria "must be able to sing" and "must be able to speak Spanish."
West Side Story is one of two new movies Spielberg is working on. The other is the fifth Indiana Jones film.