'Whitney' Trailer: The Whitney Houston You Never Knew Shines In Estate-Approved Documentary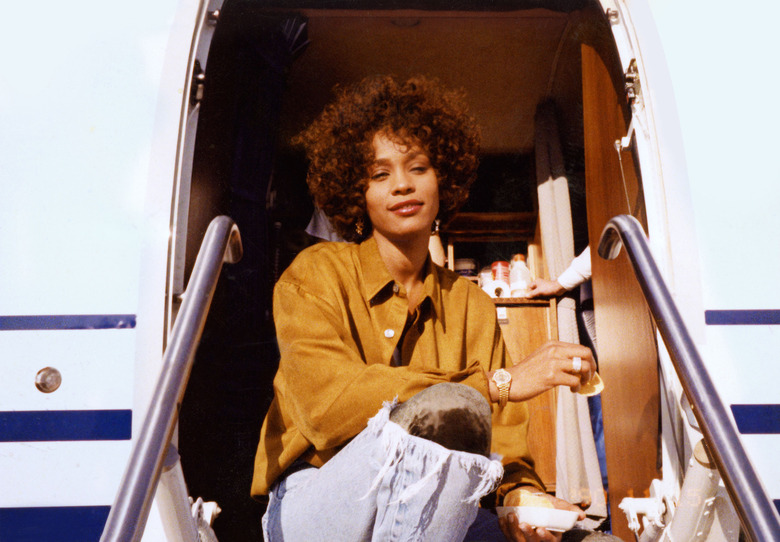 For a long time, Whitney Houston was simply "The Voice," the uber-talented diva who could hit any note, who could pull off any run — and dominated the music charts for it. Then, she became the face of the tabloids, of washed up singers who struggled with a life of drugs, erratic behavior, and scandals. It was a bittersweet, beautifully transient career for the legendary singer that was cut short by her tragic death at the age of 48. Now, a documentary approved by the singer's estate, will remind us of why we'll always love Whitney Houston. See the Whitney trailer below.
Whitney Trailer
Whitney Houston inspired legions of fans, imitators, and haters, but there could have only been one. Whitney attempts to reveal the true nature of the woman behind the glitz and glamor. And it was a woman who was insanely talented, but struggled with the pressures of fame at the height of her career. "People think it's so damn easy," an emotional Houston confesses to the camera in one emotional clip. "And it's not."
Whitney, directed by Oscar-winning director Kevin Macdonald (The Last King of Scotland), examines the singer's life from her bright beginnings to her troubled, dark latter half of her career. Using a mix of interviews with loved ones, demo recordings, and never-before-seen archival footage, Whitney gives us a fuller picture of the woman behind the Voice.
Houston, who broke more music industry records than any female singer in history, died from an accidental drowning in 2012. She struggled with a lifetime of substance abuse and the Los Angeles County Coroner later found that "effects of atherosclerotic heart disease and cocaine use" contributed to her death.
Here is the official synopsis for Whitney:
Whitney Houston broke more music industry records than any other female singer in history. With over 200 million album sales worldwide, she was the only artist to chart seven consecutive U.S. No. 1 singles. She also starred in several blockbuster movies before her brilliant career gave way to erratic behavior, scandals and death at age 48. The documentary feature Whitney is an intimate, unflinching portrait of Houston and her family that probes beyond familiar tabloid headlines and sheds new light on the spellbinding trajectory of Houston's life. Using never-before-seen archival footage, exclusive demo recordings, rare performances, audio archives and original interviews with the people who knew her best, Oscar®-winning filmmaker Kevin Macdonald unravels the mystery behind "The Voice," who thrilled millions even as she struggled to make peace with her own troubled past.
Whitney will make its world premiere at the Cannes Film Festival in May. It will open in theaters on July 6, 2018.