'Kin' Trailer: Two Brothers Go On The Run From A Menacing James Franco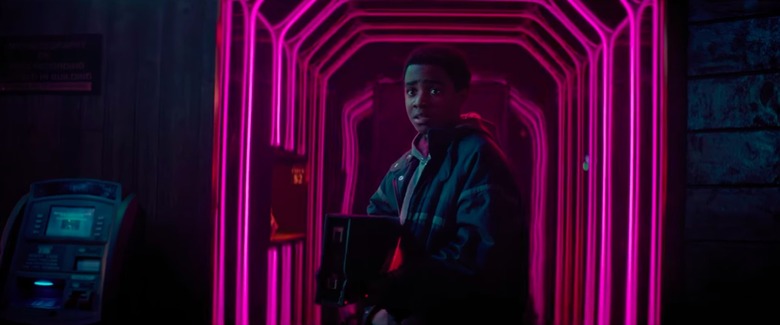 Netflix and streaming platforms have been rolling out so much vaguely cyberpunk-inspired science-fiction lately that it's easy to be overwhelmed. But Lionsgate is bringing a new sci-fi film to theaters, and it's one that boasts an impressive cast.
Kin stars Dennis Quaid, Zoe Kravitz, Jack Reynor, Carrie Coon, and newcomer Myles Truitt in a promising sci-fi film about a boy who stumbles upon a strange weapon, and the chaos that ensues after he does.
Kin Trailer
The Kin trailer enthusiastically reps the credibility of producer Shawn Levy, who has produced acclaimed sci-fi projects that have taken over the zeitgeist like Arrival and Stranger Things. Apparently he's been a busy guy, because this is the second trailer in so many months to boast Levy's credits, but no matter. Kin does look like it marries the cerebral sci-fi of Arrival with the kids on bikes of Stranger Things.
Kin follows a teenage boy (newcomer Myles Truitt) as he discovers a strange weapon in the debris of a mysterious battle. Keeping the weapon for himself, he uses it to save his ex-con brother (Jack Reynor) from a group of violent criminals led by James Franco. But with the weapon out in the open, the two brothers are forced to flee, both from the criminal gang and otherworldly forces that are bent on taking the weapon back.Kin is directed by the brotherly duo Jonathan Baker and Josh Baker and also stars Dennis Quaid, Zoe Kravitz, and Carrie Coon.
Here is the official synopsis for Kin:
KIN, a pulse-pounding crime thriller with a sci-fi twist, is the story of an unexpected hero destined for greatness. Chased by a vengeful criminal (James Franco) and a gang of otherworldly soldiers,? a recently released ex-con (Jack Reynor) and his adopted teenage brother (Myles Truitt) are forced to go on the run with a weapon of mysterious origin as their only protection.
Kin opens in theaters on August 31, 2018.