'Luke Cage' Season 2 Clip: Luke Shows Off His Super Strength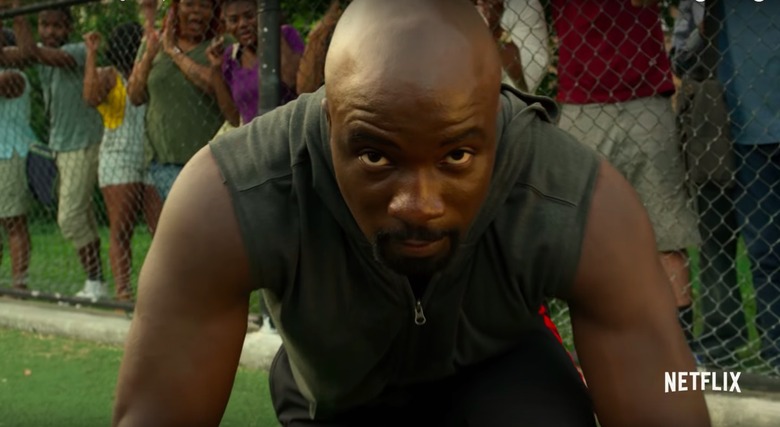 Luke Cage (Mike Coulter) is really loving the hero worship. The hero of Harlem gained cult status after he defeated the sinister Diamondback at the end of Luke Cage season 1, and now he may be getting a little too big for his (pretty big) britches.
Now, in a new Luke Cage season 2 clip, Luke can be seen basking in the glow of celebrity as he takes on the NFL draft, breaking all kinds of NFL records without breaking a sweat. Well, he kinda breaks a sweat.
Luke Cage Season 2 Clip
How do you break every record in the NFL combine? First off, get superpowers. Second...yeah that's it.
Luke Cage puts his super strength to good use — on the football field. A new Luke Cage promo clip hits the internet just in time for NFL Draft Day, showing Luke break record after record while working out with New York Jets head coach Todd Bowles at the NFL combine. In the process, he impresses former "Sports Center" host Michael Smith, though co-host Jemele Hill is less impressed.
"That thing weighs 400 pounds. I'm sorry, 400! 400 pounds!" Smith exclaims to Hill after Luke casually tosses a 400-pound tire across the field. Luke easily clears 24 feet in the long jump, causing Smith to be ecstatic once again. But Hill is less impressed, saying, "Eh, that's only 11 feet longer than the world record in long jump."
And when Luke runs 3.72 in the 40-meter dash — making him faster than Usain Bolt, the fastest man alive — Hill once again brings her negative attitude. "Human beings shouldn't be able to do that," she says.
This is clearly a promo clip run in conjunction with NFL Draft Day, and probably doesn't include footage we'll see in Luke Cage season 2. But it does speak to the newfound fame that Luke has in the sophomore season of the Marvel Netflix series, which he has some trouble dealing with when a new Big Bad enters the scene.
Here is the official synopsis for Luke Cage season 2:
After clearing his name, Luke Cage has become a celebrity on the streets of Harlem with a reputation as bulletproof as his skin. But being so visible has only increased his need to protect the community and find the limits of who he can and can't save. With the rise of a formidable new foe, Luke is forced to confront the fine line that separates a hero from a villain.
Luke Cage season 2 premieres on Netflix on June 22, 2018.