'Uncle Drew' Trailer: The Elderly Basketball Player Comedy You've Been Waiting For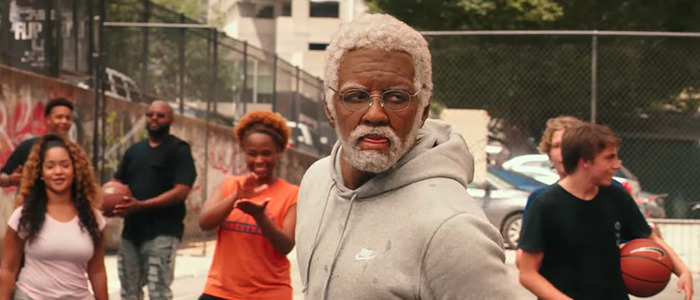 At last, someone has finally made a movie about guys wearing old age prosthetic make-up and playing basketball! Uncle Drew features Kyrie Irving, Shaquille O'Neal, Tiffany Haddish and more in a summer movie that might be a nice distraction from all the usual blockbuster bombast. Watch the Uncle Drew trailer below.
Uncle Drew has a lot going for it: a talented cast, some pretty funny jokes, and a lot of questionable old-age makeup. Lil Rel Howery plays Dex, a down-on-his-luck guy who puts together a geriatric basketball team to enter a street ball tournament. Here's the trailer.
Uncle Drew Trailer
I feel like there hasn't been much buzz about Uncle Drew, but it could end up becoming a sleeper hit. Perhaps people will flock to it if they are looking for something funny to distract from all the usual blockbuster mayhem at the multiplexes. Uncle Drew is also yet another film for the increasingly in-demand Tiffany Haddish, which will also likely draw audiences in.
At the same time, boy oh boy is the old age makeup on most of the people here kind of bad. Perhaps that's intentional? To add to the humor? I really can't tell! Maybe at the end, everyone will peel the old age makeup from their faces like they're pulling off Mission: Impossible masks. Or perhaps I'm just overthinking this.
The film comes courtesy of director Charles Stone III, who helmed Drumline, Step Sisters and Lila & Eve. This is also a film from Pepsi Productions (!), which is a thing now, I guess? The film itself was inspired by a series of Pepsi commercials, which you can watch below. Is this the first time a soft drink commercial was turned into a movie? It has to be, right? Aside from Lawrence of Arabia, which was inspired by a commercial for Dr. Pepper, I think. I could be misremembering that.
Uncle Drew Short Films
Uncle Drew, starring Kyrie Irving, Lil Rel Howery, Shaquille O'Neal, Reggie Miller, Nate Robinson, Chris Webber, Erica Ash, Lisa Leslie, with Tiffany Haddish and Nick Kroll, opens on June 29, 2018.
After draining his life savings to enter a team in the Rucker Classic street ball tournament in Harlem, Dax (Lil Rel Howery) is dealt a series of unfortunate setbacks, including losing his team to his longtime rival (Nick Kroll). Desperate to win the tournament and the cash prize, Dax stumbles upon the man, the myth, the legend UNCLE DREW (NBA All-Star Kyrie Irving) and convinces him to return to the court one more time. The two men embark on a road trip to round up Drew's old basketball squad (Shaquille O'Neal, Chris Webber, Reggie Miller, Nate Robinson, and Lisa Leslie) and prove that a group of septuagenarians can still win the big one.