'Godzilla 2' Casts 'Rampage' Mo-Cap Actor As King Ghidorah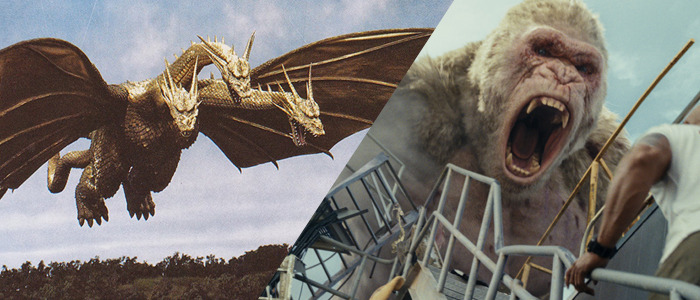 Rampage has a full cast of marquee actors like Dwayne Johnson, Naomie Harris, and Jeffrey Dean Morgan, but there's one performer whose name you'd never notice unless you paid close attention to the credits: Jason Liles. He's the man who did the performance capture work for George, the movie's huge albino gorilla. Now Liles will be going from playing one huge beast to another, because he's joined the Godzilla 2 cast in the role of King Ghidorah, one of Godzilla's long-time cinematic adversaries.TheWrap reports that Liles, who has also worked on movies like Men in Black 3 and Death Note, has been cast as King Ghidorah in Legendary and Warner Bros.' upcoming Godzilla movie, which is a sequel to Gareth Edwards' 2014 reboot. This project was once called Godzilla: King of the Monsters, but has since been referred to by the studio as Godzilla 2, so we're still not sure what the final title is going to be.
Interestingly, Liles is going to be one of "several motion-capture actors" to play King Ghidorah, an armless three-headed winged dragon with golden scales that cover its body and the ability to shoot gravity beams from its mouths. "Liles' work alongside additional mo-cap actors will contribute to the final version of the famous monster," the report says. Will he only be providing the performance capture for one of the three faces? Or will Liles do the face work while some other actors to the body work? I'm fascinated with how exactly those duties are going to be divided up, and whose work will be recognizable in the final film.
King Ghidorah first appeared in 1964's Ghidorah, The Three-Headed Monster, and has since gone on to battle Godzilla in films like Invasion of Astro-Monster, Godzilla vs. King Ghidorah, Destroy All Monsters, and Godzilla vs. Megaguirus, just to name a few. In this new sequel, he'll appear alongside other classic movie monsters from this franchise, including Rodan and Mothra.
Here's the film's official synopsis:
The new story follows the heroic efforts of the crypto-zoological agency Monarch as its members face off against a battery of god-sized monsters, including the mighty Godzilla, who collides with Mothra, Rodan, and his ultimate nemesis, the three-headed King Ghidorah. When these ancient super-species—thought to be mere myths—rise again, they all vie for supremacy, leaving humanity's very existence hanging in the balance.
Godzilla 2 is being directed by Trick 'r Treat and Krampus director Michael Dougherty, who co-wrote the script with Zach Shields. Kyle Chandler, Vera Farmiga, and Stranger Things breakout Millie Bobby Brown will play a family at the center of the action in this film, and they'll be joined by newcomers to the series like O'Shea Jackson Jr., Thomas Middleditch, Zhang Ziyi, Bradley Whitford, Charles Dance. Aisha Hinds. Ken Watanabe and Sally Hawkins will reprise their roles as Monarch agents from the 2014 movie.Godzilla 2 stomps into theaters on March 22, 2019, and is already slated to face off against King Kong (of Kong: Skull Island) in Godzilla vs. Kong on May 22, 2020.