A 'Spotlight'-Style Harvey Weinstein Investigation Movie Is In The Works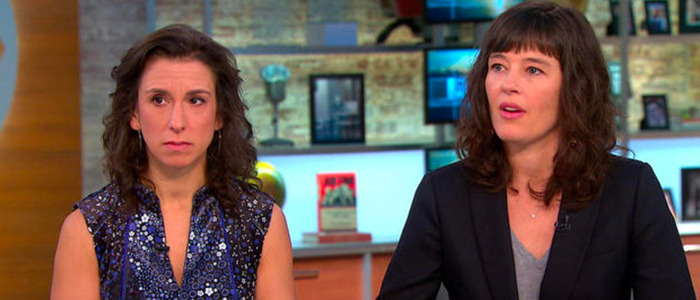 The investigation into Harvey Weinstein's sexual misconduct is getting a Spotlight-style feature film courtesy of Annapurna and Plan B. The film will focus on New York Times reporters Jodi Kantor and Megan Twohey, who broke the Weinstein story last year.
It was only a matter of time before the film industry decided to tackle the Harvey Weinstein story head-on. Deadline reports that Annapurna Pictures and Plan B Entertainment have acquired the rights to the story story of the New York Times reporters Jodi Kantor and Megan Twohey and their investigation into the Weinstein scandal.
Kantor and Twohey's story detailed the numerous sexual misconduct allegations against the powerful film mogul. Once the story broke, it began what many would cite as the long-overdue end of Weinstein's career, and also helped shine a spotlight on the #MeToo movement, leading to more women to come forward with more allegations both against Weinstein and others. The story ultimately landed Katnor and Twohey a Pulitzer Prize.
When asked what prompted the investigation into Weinstein, Kantor said:
"The Times has made a huge commitment to sexual harassment reporting. Our colleagues Emily Steel and Mike Schmidt broke the Bill O'Reilly story, and our colleague Katie Benner wrote about female entrepreneurs in Silicon Valley who are pressured by venture capitalists for sexual favors. I know it seems like those were many sexual harassment stories ago, but at the time, they were really a light-bulb moment for the paper because they made us realize there may be a lot more buried truths here."
Kantor also added:
"It's an honor to do this work....We always say to people that we can't change what happened to them in the past, but we need to be able to put what happened to them to some constructive purpose. Sometimes it has felt as though we're standing in a river of pain, and I don't want to diminish that, but there have also been moments of recognition and hope and connection. The question now is whether or not private pain can be turned into collective strength."
The Deadline story stresses that the film is being compared to Spotlight, Tom McCarthy's Academy Award winning film about the Boston Globe reporters who blew the lid off of the Catholic Church's massive scandal of child molestation. All the President's Men is being cited as a reference point as well. The film will focus on the reporting and the investigation, not on Weinstein himself – which is exactly how a film of this nature should be handled. No director or cast have been chosen yet.