Fox Reveals Official 'The Predator' Synopsis: The Hunt Comes Home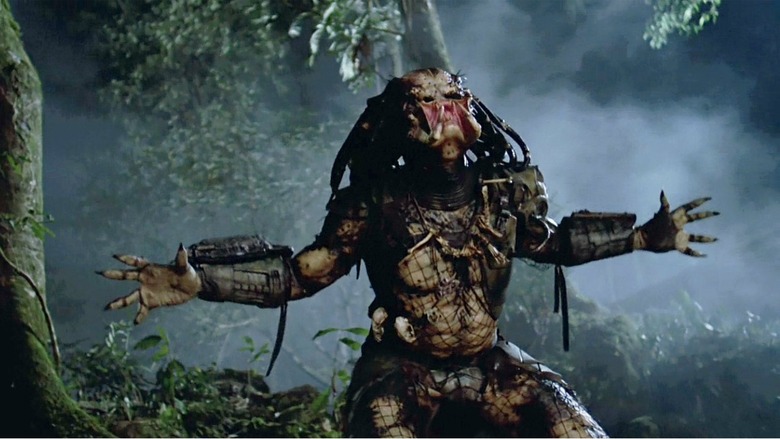 The Predator is one of /Film's most anticipated movies of 2018. Previous sequels in this franchise haven't remotely approached the quality of John McTiernan's 1987 classic, but the main reason we're excited about this one is because it's co-written and directed by Shane Black, the guy behind movies like Kiss Kiss Bang Bang, The Nice Guys, and one of Marvel Studios' very best films, Iron Man 3.
20th Century Fox has largely kept fans in the dark about Black's plans for this upcoming sequel, but now the studio has released an official synopsis ahead of today's CinemaCon presentation. Read it in full below.
We've spent the past few months trying to stitch together this movie's plot piece by piece, using interviews from the film's actors and insider reports to try to get an idea of what we're going to see. Now it looks like Fox is ready to start pulling the curtain back themselves, because the studio sent out a press release this morning before their CinemaCon presentation that lays the whole thing out.
The Predator Synopsis
From the outer reaches of space to the small-town streets of suburbia, the hunt comes home in Shane Black's explosive reinvention of the Predator series. Now, the universe's most lethal hunters are stronger, smarter and deadlier than ever before, having genetically upgraded themselves with DNA from other species. When a young boy accidentally triggers their return to Earth, only a ragtag crew of ex-soldiers and a disgruntled science teacher can prevent the end of the human race.
This is the first we're hearing about the Predators using genetic upgrading technology to fuse their DNA with other species, and I don't know about you, but I got Jupiter Ascending flashbacks when I read that. (In that film, Channing Tatum played an alien hunter who was half human, half dog.) I have to imagine Black will be at an advantage over the Wachowskis when it comes to that particular plot point – unless, of course, we're expected to invest in a Predator love story we don't know about yet.
We knew about the ragtag crew of ex-soldiers from when actor Thomas Jane revealed a bit too much in an interview last year, and the young boy who triggers the Predators' return to Earth is almost certainly Jacob Tremblay, the Room actor who is the only child we know of who's been cast in this film.
But what about that disgruntled science teacher? Olivia Munn was cast as a scientist...maybe something was lost in translation during the initial reporting and she's not a scientist, but a science teacher? We know a trailer is coming soon – maybe even as soon as today – so I suspect it won't be long until we learn more.
Jake Busey (who's playing the son of Gary Busey's Predator 2 character), Keegan-Michael Key, Boyd Holbrook, Edward James Olmos, Trevante Rhodes, Augusto Aguilera, Alfie Allen, and Yvonne Strahovski star, and The Predator is co-written by Black and Fred Dekker (Monster Squad).
The Predator arrives on September 14, 2018.