Tommy Cruise Is At It Again: 'Mission: Impossible' Actor Jumped Out Of A Plane 106 Times For 'Fallout'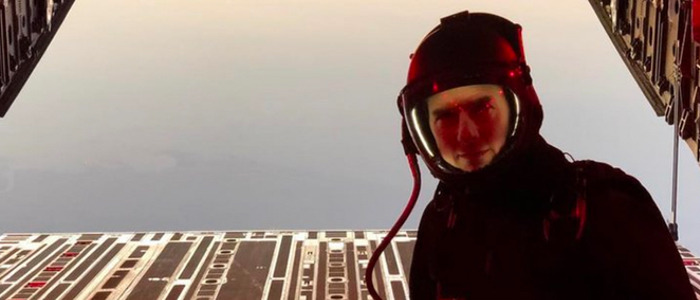 I am pleased to inform you that Tommy Cruise is indeed at it again. During a Mission: Impossible – Fallout presentation at CinemaCon, it was revealed that Cruise jumped out of a plane 106 times just to film one scene. Oh, Tommy Cruise, you rascal!
Every time a new Mission: Impossible movie comes out, you can count on new stories about the crazy, potentially deadly stunts star Tom Cruise performed all in the name of entertainment. We already know that Cruise broke his ankle performing a stunt for the upcoming Mission: Impossible – Fallout, but a measly broken bone isn't enough to slow down that boy Tommy Cruise. During a presentation at CinemaCon, Cruise and the crew behind Fallout revealed the actor jumped out of a plane 106 freakin' times to get three takes of one scene.
Potential spoilers for Fallout follow. In the scene, Cruise's character Ethan Hunt jumps from a plane at 30,000 feet going about 220 MPH. As he's falling, he apparently gets struck by lightning (note: the lightning part didn't really happen, so I guess Tommy Cruise isn't as committed as we thought he was; why didn't you let yourself get struck by lightning for real, Cruise?). To get the shot, Cruise kept jumping out of the plane as a skydiver with a camera on his head fell backward out of the plane so he could film the actor.
"The only place we could do this [legally] was the United Arab Emirates," Cruise told the audience at CinemaCon. A month ago, Cruise posted an image from the stunt in question on Instagram.
Since the Mission: Impossible film series began in 1996, the stunts have grown more and more elaborate and dangerous. The first film's major stunt for Cruise involved him simply dangling from some pulleys in a room. At the time, this sequence seemed like a big deal and was featured in all the promo material. But it almost seems quaint, and even boring now, compared to all the crazy shit Cruise has done since.
In Mission: Impossible II, Cruise performed some rock climbing.
In Mission: Impossible – Ghost Protocol, Cruise dangled 1,700 above the ground off the world's tallest building, Dubai's Burj Khalifa.
In Mission: Impossible – Rogue Nation, Cruise clung onto the side of an ascending airplane going 160 mph. He also held his breath for 6 minutes to film an underwater sequence.
And if you think all the stuff above is crazy, Cruise was also brave enough to star in the terrible 2017 movie The Mummy!
Mission: Impossible – Fallout, starring that boy Tommy Cruise, opens on July 27, 2018.