The Morning Watch: 'Avengers: Infinity War' Edition - Surprising Fans, Cast Trivia & More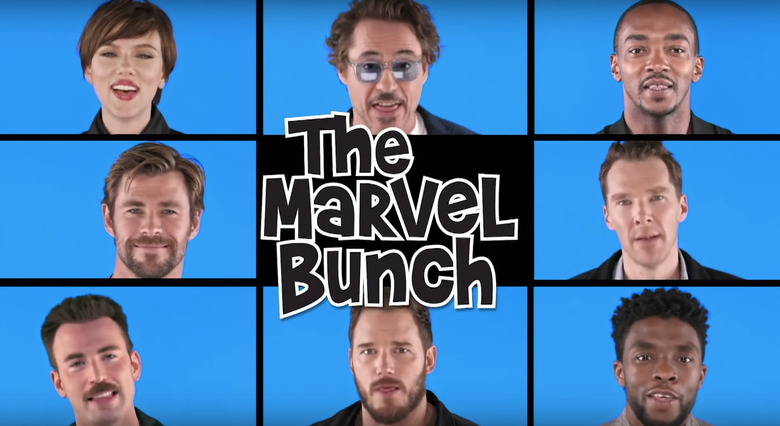 The Morning Watch is a recurring feature that highlights a handful of noteworthy videos from around the web. They could be video essays, fanmade productions, featurettes, short films, hilarious sketches, or just anything that has to do with our favorite movies and TV shows.
In this Avengers: Infinity War edition, some of the cast members from Marvel's epic sequel surprises fans on Jimmy Kimmel Live while others play a round of "Guess the Avenger." Meanwhile, a line-up of the super star superheroes try to answer some Marvel trivia questions, and a bunch of them get together for a new rendition of The Brady Bunch theme.
After Chadwick Boseman surprised Black Panther fans on The Tonight Show, he joins Sebastian Stan, Chris Hemsworth, Josh Brolin and Karen Gillan on Jimmy Kimmel Live to surprise some big Marvel fans. The look on their faces and the shocked reactions from these people are so delightful.
Over at MTV News, cast members Zoe Saldana, Tom Holland, Anthony Mackie and Chris Pratt try to answer some Marvel trivia and they find out that even though they play comic book characters, they're not quite as knowledgeable as they think.
Meanwhile, back at Jimmy Kimmel Live, cast members Danai Gurira, Tom Hiddleston, Mark Ruffalo, Dave Bautista and Scarlett Johansson try to "Guess the Avenger." It's always fun to see these guys just having fun instead of being probed for information about the next Marvel movie.
Finally, all of your favorite Avengers got together on The Tonight Show to sing a special Marvel version of The Brady Bunch theme. But even with nine boxes for the cast, that's barely even a third of the key characters from Avengers: Infinity War.