Stephen King's 'The Long Walk' Now In Development At New Line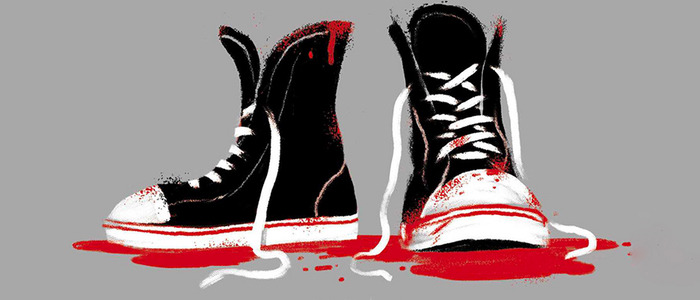 The Stephen King movie adaptation train refuses to slow down, so get the hell out of the way. The latest King property to find its way to the big screen: The Long Walk. Frank Darabont previously had the rights to King's book for years, but that's no longer the case.
Sooner or later, Hollywood is going to run out of Stephen King adaptations. When that happens, I imagine we'll get more remakes. For now, though, the few remaining unadapted King works are being snapped up at a break-neck pace, all thanks to the King adaptation resurgence spawned by the blockbuster success of It. The Hollywood Reporter reveals the latest possible King adaptation is The Long Walk, based on the 1979 novel King wrote under the pseudonym Richard Bachman.
The Long Walk is a post-apocalyptic saga set in a dystopian America, where teenage boys are forced to participate in a deadly contest. It's sort of like a stripped-down version of The Hunger Games. Here's the official book synopsis:
In the near future, where America has become a police state, one hundred boys are selected to enter an annual contest where the winner will be awarded whatever he wants for the rest of his life. The game is simple – maintain a steady walking pace of four miles per hour without stopping. Three warnings, and you're out – permanently.
The ever-prolific King later said he wrote The Long Walk in about a week. "I was white hot, I was burning," the author recalled. "It seemed like it snowed the whole week, and I wrote the book."
Per THR, James Vanderbilt, who wrote Zodiac, is responsible for the latest draft of the script. Vanderbilt will produce the film fore New Line Cinema with Bradley Fischer and William Sherak. The Shawshank Redemption and The Mist director Frank Darabont previously had the rights to the novel, and spent years saying he would get around to making the film eventually. "When I make [The Long Walk], that'll be even lower budget than The Mist was," the filmmaker said. "It'll be weird, existential and very contained, like the story. A bit more of an arthouse film than anything."
But Darabont eventually let the rights lapse. When that happened, Vanderbilt and Fischer snapped them up and brought them to New Line. New Line also produced It, and the success of that film has obviously inspired them to stay in the Stephen King business.
The Long Walk is an excellent book, and I'm honestly surprised it took this long for it to find its way to the screen, especially with the undeniable Hunger Games connections. Vanderbilt is a surprising writer for the project. His Zodiac screenplay is fantastic. But he also wrote Independence Day: Resurgence, which...isn't so good. Still, I'm very curious to see what he does here.