Get Your First Look At The Studio Ghibli Theme Park Concept Art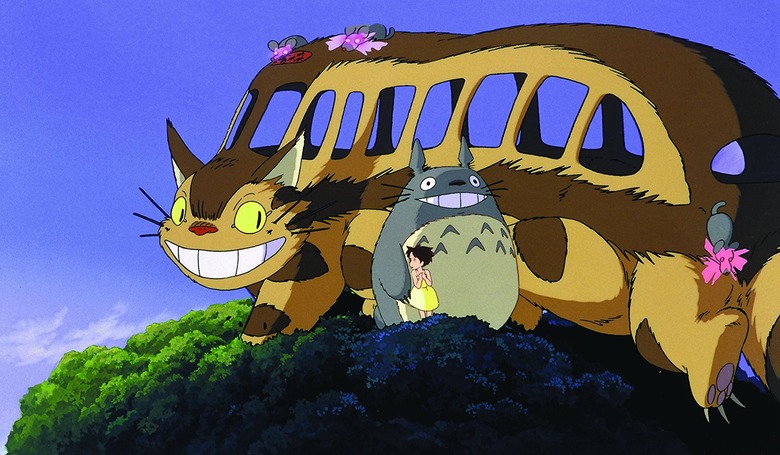 Come 2022, you can be spirited away to the world of Studio Ghibli. An upcoming theme park will bring to life the vibrant and surreal worlds that were first introduced to us in the animated movies by Hayao Miyazaki, Isao Takahata, and other illustrious anime directors.
The theme park's opening is still several years in the future (they're probably trying to figure out how to make a real-life Catbus as we speak), but for now, we can get a first look at some absolutely magical Studio Ghibli theme park concept art.
The Studio Ghibli theme park concept art gives us a taste at the sumptuous worlds we can wander through once Ghibli World — or Ghibli Park, whatever it ends up being named — opens in Nagoya, Japan. Those include the worlds of Howl's Moving Castle, Princess Mononoke, Whisper of the Heart, Kiki's Delivery Service, and even more. And of course, the world that started all: My Neighbor Totoro.
While the residents of Tokyo have long had access to the Ghibli Museum, a bonafide Studio Ghibli theme park remained a pipe dream until the 2005 World's Fair. At the World's Fair, an exact replica of "Satsuki and Mei's House" from My Neighbor Totoro became a huge attraction, and still stands today. And finally last year, it was announced that a Studio Ghibli theme park would be built out in the area surrounding that beloved house.
What buildings and attractions will surround Satsuki and Mei's house? Well, the 200-hectare plot of land will be filled with the winding dirt roads and village of Princess Mononoke, the charming red-brick antique shop of Whisper of the Heart, memorable landmarks from Howl's Moving Castle and Kiki's Delivery Service in Witch Valley, and a Big Ghibli Warehouse, which will be filled with Ghibli-themed play areas as well as exhibition areas and small cinemas, according to Kotaku. And of course, the centerpiece will be the Totoro-themed Dondoko Forest, named after the "dondoko dance" that Mei and Satsuki perform with Totoro.
Get your first look at the magical concept art for these lands below.
【続報】スタジオジブリが作成したデザインです(提供:愛知県) #ジブリパーク pic.twitter.com/xxb2xQbprj

— 東海テレビニュースONE (@tokai_newsone) April 25, 2018
Though Ghibli films take place in far-off worlds, ranging from Western-style architecture to the rolling, forested landscapes of ancient Japan, everything seems like they fit together perfectly in these concept pictures. That's because they perfectly capture the whimsy of Studio Ghibli and Miyazaki films, feeling at once bustling and crowded, but not visually overstimulating.
No word yet on whether we'll get a Spirited Away bathhouse, though I would settle on the iconic train that runs through a tranquil ocean.
Japan Times also reports that scattered throughout the theme park will be "European-themed brick towers that appear frequently in Miyazaki's works, as well as giant installations of spider- and boar-shaped spirits in imaginary landscapes that evoke Japan's mythical and idyllic past."
The theme park, commissioned by the local Aichi Prefecture government, was originally planned to be ready by the 2020 Tokyo Olympics, but will now open its gates in 2022. And it couldn't come soon enough.