'Cobra Kai' Early Buzz: 'Karate Kid' Fans Will Love This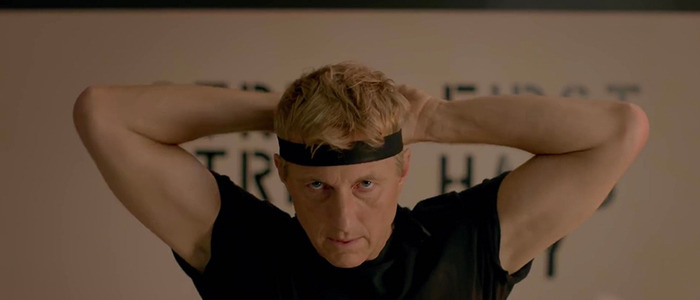 Cobra Kai is bringing the story of the Karate Kid into the 21st century, and the early buzz has begun to trickle online. Early Cobra Kai reviews are, as of now, overwhelmingly positive. It looks like the YouTube Red show might end up being a must-see.The Karate Kid  saga continues with Cobra Kai, a new YouTube Red series reuniting original Karate Kid stars Ralph Macchio and William Zabka. Cobra Kai's story finds Macchio's Daniel, AKA the Karate Kid, all grown-up and successful, while his former rival, Johnny (Zabka) is down on his luck. Can Johnny find a sort of redemption by reopening the Cobra Kai dojo and training a new generation of fighters? Maybe!
Early Cobra Kai reviews are starting to find their way online, and so far the early word is positive.
Over at io9, Germain Lussier says "Cobra Kai is the awesome Karate Kid sequel you may or may not have wanted", saying:
Cobra Kai is a show that totally gets what made The Karate Kid so special. It's as much a continuation of the Karate Kid story as it is an homage to its legacy, and that works, in large part, because Cobra Kai perfectly mimics the tone of the original films. The original Karate Kid films have a touching earnestness to them, but also a weird, '80s edge, especially when viewed back through history. Cobra Kai beautifully blends those together with its new spin on The Karate Kid story. It's very aware of itself and delivers just the right amount of winks and nods to the first movie and its sequels, but without distracting from the new story it's telling.
Lussier adds that he's a "Karate Kid superfan", and that he was "extremely skeptical about the idea of this show, and ready to pounce if it wasn't faithful to the source material." Thankfully, he says that all his "anxiety was relieved in, literally, the first second of episode one. Immediately, it's evident Cobra Kai is in the right hands."
Kristen Baldwin, reviewing Cobra Kai for Entertainment Weekly, praises Zabka's performance and says that Johnny has turned into a much more well-rounded character:
Zabka brings the same sharp comic timing and self-deprecating humor he displayed when playing himself on How I Met Your Mother, but there's a surprising depth to his performance as well. Adult Johnny is no longer a 2-D '80s movie villain, he's a guy whose shoulders slump with a lifetime of disappointment. Though he's capable of Learning Lessons — including the limited value of aggression — Cobra Kai never tries to rehabilitate Johnny into a nice guy.
Baldwin goes on to say that the show knows how to tap into a "nostalgia sweet spot" and adds: "Cobra Kai manages to give Karate Kid fans exactly what they want, while using the template of the original to launch new characters aimed at younger viewers."
Finally, JoBlo reviewer Chris Bumbray says Cobra Kai is "A direct sequel to the first three films, with plenty of references at least to the first two (including lots of stock footage) worked-in, this is a legit sequel," and continues:
"The tone is well-established, with this not exactly a drama, but not exactly the comedy the trailers seemed to set up either. It's funny, but in a more character-based, realistic way – not unlike the movies themselves. As a legit fan of the original trilogy (I actually think PART 2 is the best), I think "Cobra Kai"'s terrific, and I hope audiences embrace it."
Cobra Kai will arrive on YouTube Red on May 2, 2018.
In the highly-anticipated return of two iconic characters, the arch-rivals from the legendary Karate Kid film series reunite over 30 years after the events of the 1984 All Valley Karate Tournament. Now living in the affluent hills of Encino, Daniel LaRusso (Ralph Macchio) leads an enviable life with his beautiful family, while running a successful string of car dealerships throughout the valley. Meanwhile, his high school adversary, Johnny Lawrence (William Zabka), whose life has taken a rocky turn, seeks redemption by reopening the infamous Cobra Kai karate dojo. Their lives inevitably become intertwined and the rivalry is reignited, setting forth the next generation of "karate kids" in COBRA KAI, a YouTube Red Original Series