'Less Than Zero' TV Series In Development At Hulu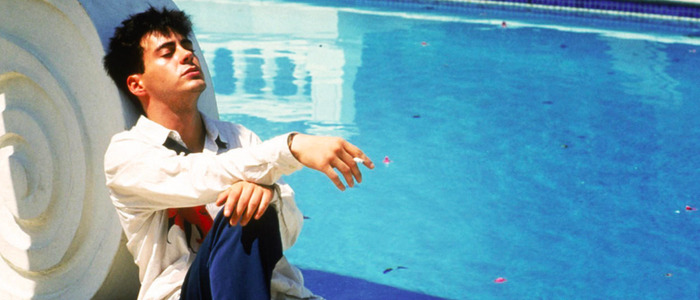 Brett Easton Ellis' Less Than Zero is coming to the small screen. Hulu is currently developing a Less Than Zero TV series that will adapt Ellis' 1985 novel (which was previously made into a 1987 film) about a group of detached college students.
Hulu is continuing to increase their original content. They already have The Handmaid's Tale, The Looming Tower and the upcoming Catch-22 and Castle Rock. Now they're hoping to add a TV adaptation of Brett Easton Ellis' Less Than Zero as well, according to Variety. Ellis' novel was set in Los Angeles in the 1980s, and followed Clay, a rich, bored, morally ambiguous college student home for Christmas break. Clay reunites with some friends, all of whom are usually on drugs and drifting through a nihilistic haze.
Here's the book's synopsis.
Clay comes home for Christmas vacation from his Eastern college and re-enters a landscape of limitless privilege and absolute moral entropy, where everyone drives Porches, dines at Spago, and snorts mountains of cocaine. He tries to renew feelings for his girlfriend, Blair, and for his best friend from high school, Julian, who is careering into hustling and heroin. Clay's holiday turns into a dizzying spiral of desperation that takes him through the relentless parties in glitzy mansions, seedy bars, and underground rock clubs and also into the seamy world of L.A. after dark.
"When I wrote it, I intentionally set out to write fiction that was not necessarily about my life," Ellis said of the novel. "Now, of course, as I've gotten older and I've looked back on it, I've thought, 'Okay. You know what? It obviously came from a place within me, and there are similarities, and to disavow my closeness to the narrator is a little disingenuous.' There was probably more in common than I wanted to admit. But I always thought the better answer was, 'No, Clay is a made-up guy; he's an abstract idea more than a fully realized character'—which to a degree is absolutely true. I felt his voice was more evocative of something going on in the culture at the time."
Ellis' novel was previously (and loosely) adapted into a 1987 film starring Andrew McCarthy, Jami Gertz, and Robert Downey, Jr. Ellis also penned a sequel, 2010's Imperial Bedrooms.
Less Than Zero was Ellis' first book, published when he was 21. He would go on to write American Psycho, The Rules of Attraction, and more. If Hulu goes ahead with the Less Than Zero TV show, it'll be the first of Ellis' works adapted for TV. Besides the Less Than Zero film, his books American Psycho, The Rules of Attraction, and The Informers have made it to the big screen.