'Spider-Man: Into The Spider-Verse': Jake Johnson Is Your New Peter Parker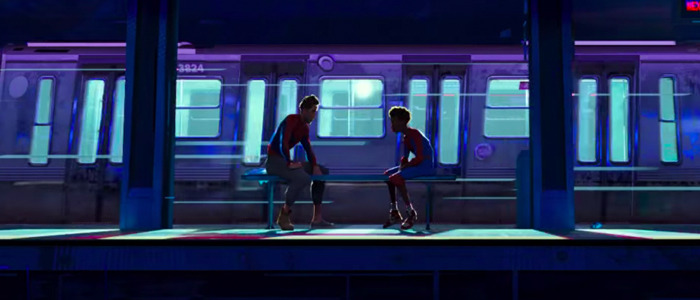 Jake Johnson (New Girl, Jurassic World) is your new Peter Parker. But unlike all of the other Spider-Man movies we've seen thus far, Sony Pictures Animation's upcoming Spider-Man: Into the Spider-Verse won't follow Peter as the central character. Instead, it tells the story of Miles Morales, Marvel's half-black half-Hispanic character who is bitten by a radioactive spider and takes on the superhero mantle.
During Sony's presentation at CinemaCon yesterday, they debuted a new sizzle reel of footage from the movie, which is a hybrid of hand-drawn and CG animation that has the feeling of a comic book story popping off the page and onto the big screen. Here's the teaser trailer, which debuted late last year:
Shameik Moore (Dope, The Get Down) stars as Miles Morales, and that teaser ends with a quick encounter between Miles and Peter Parker. Online reports about the CinemaCon footage indicate that when Peter spoke in that footage, it was with Johnson's voice. (When asked to confirm the casting, a Sony representative did not immediately respond.)
Assuming Johnson is actually on board, this is perfect casting. Johnson has built a career on playing snarky and quick-witted jokesters, and he's a great delivery vehicle for writer Phil Lord's sense of humor. I'm a big fan of Johnson's work in an indie comedy called Drinking Buddies, which showed he can have a mixture of sincerity and sarcasm that should serve him well as this version of Spider-Man.
In terms of the story, it's still largely shrouded in mystery. But we do know it introduces the concept of multiple universes and features villains like The Prowler. In the comics, Miles's father, Jefferson Davis, and his uncle, Aaron Davis, were criminals when they were kids. Jefferson eventually saw the error of his ways, fathered Miles, and became a police officer, but Aaron – who was played by Donald Glover in Spider-Man: Homecoming – stayed a criminal and eventually took on the mantle of The Prowler. How exactly Peter Parker factors into all this, we still can't say.
We'll have much more from Spider-Man: Into the Spider-Verse soon, including a detailed breakdown of new footage and a Q&A with Phil Lord, Chris Miller, and Shameik Moore, so stay tuned for that.
Spider-Man: Into the Spider-Verse is directed by Peter Ramsey, Bob Persichetti, and Rodney Rothman. It features the voice talents of Shameik Moore, Jake Johnson, Liev Schreiber, Mahershala Ali, and Bryan Tyree Henry, and it arrives in theaters on December 14, 2018.