J.K. Rowling Reveals Jessica Williams' 'Fantastic Beasts' Role And Rejects A 'Cursed Child' Sequel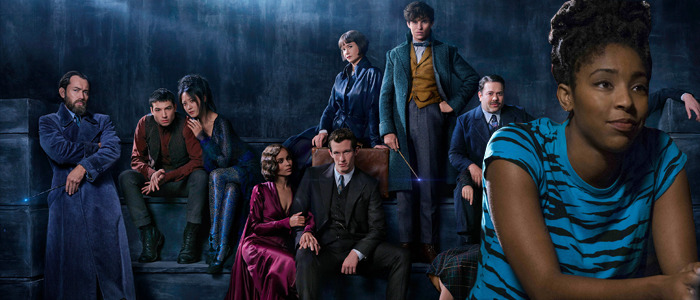 Former Daily Show correspondent Jessica Williams has been a ride or die fan of Harry Potter for years, and now she's officially joining the Wizarding World by playing a role in the next two Fantastic Beasts movies. We've known about her casting for months, but Williams and Fantastic Beasts creator J.K. Rowling announced her character's name during a recent intermission of the Broadway play Harry Potter and the Cursed Child. Plus, in a separate interview, Rowling dismissed the idea of a sequel to that Broadway show, saying such a thing would be a "cynical move." Learn more about both Potter-related stories below.
Jessica Williams in Fantastic Beasts
This past weekend, Rowling and Williams attended a staging of the two-part Harry Potter and the Cursed Child on Broadway. (You can listen to /Film's Peter Sciretta talk about his experience seeing the show here.) During the intermission, Rowling took to Twitter to reveal the Fantastic Beasts Jessica Williams role:
Professor Eulalie (Lally) Hicks of Ilvermorny School of Witchcraft and Wizardry with some random woman during the interval of #CursedChildNYC pic.twitter.com/Kl7joRz8me

— J.K. Rowling (@jk_rowling) April 22, 2018
For those who don't recall, Ilvermorny School of Witchcraft and Wizardry is the American equivalent of Hogwarts. It was briefly mentioned in Fantastic Beasts and Where to Find Them; Queenie and Tina Goldstein both graduated from the institution.
Considering that Fantastic Beasts: The Crimes of Grindelwald is set largely in Paris, it seems unlikely that Williams' role as Ilvermorny professor Lally Hicks will be significant...at least at first. In a follow-up tweet, Rowling said we'd see a lot more of Williams' character in the third movie in this franchise:
You only see a HINT of Lally in Fantastic Beasts 2. Her true glory is revealed in FB3. https://t.co/8vyhdlU71m

— J.K. Rowling (@jk_rowling) April 22, 2018
We Won't Get a Cursed Child Sequel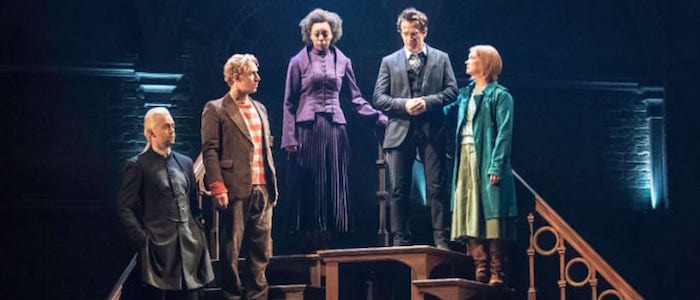 At the same Broadway show, Variety caught up with Rowling and asked her if fans might ever see a sequel to The Cursed Child. But the author – who co-created the play with director John Tiffany and playwright Jack Thorne – says this will be the end of the Harry Potter lineage as we know it:
"I think we really have now told, in terms of moving the story forward, the story that I, in the back of my mind, wanted to tell. I think it's quite obvious, in the seventh book, in the epilogue, that Albus is the character I'm moved [sic] interested in. And I think we've done the story justice. So I think pushing it on to Harry's grandchildren really would be quite a cynical move, and I'm not interested in doing that."
It's fascinating to me that Rowling is drawing a line in the sand here and saying that a sequel to this play would be "cynical", but yet she has no problem writing five whole movies set in the Wizarding World that could also be viewed as an equally cynical cash grab. What do you all think?