'Jumanji: Welcome To The Jungle' Sequel Hitting Theaters In Winter 2019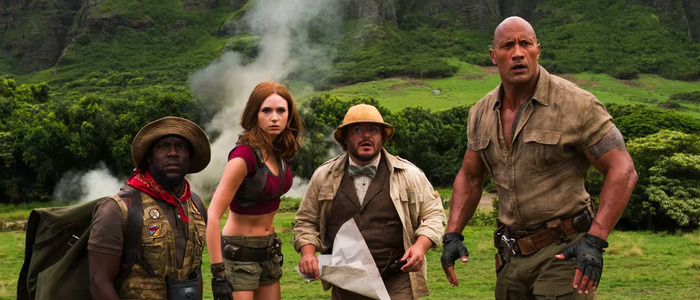 You knew it was coming. It was inevitable. Another Jumanji sequel is on its way. Jumanji: Welcome to the Jungle, both a sequel and a reboot of the original Jumanji, was a massive hit for Sony, and they can't say no to a good thing.
Jumanji: Welcome to the Jungle racked up good reviews and even better box office – it grossed more than $956 million worldwide – so it was only a matter of time before Sony went ahead and gave it a sequel. And now they have, with plans for a winter 2019 release. During Sony's presentation at CinemaCon, Sony Pictures motion picture group chairman Tom Rothman announced, "I'd bet on seeing Dwayne Johnson in theaters again in December 2019."
Of course, Johnson is so busy and in so many movies this could technically refer to anything, but it's Jumanji Rothman is talking about here. The Jumanji sequel news came in the midst of Sony's big CinemaCon presentation, which also included talk of Quentin Tarantino's Once Upon a Time In Hollywood (which included a presentation appearance from Leonardo DiCaprio and Brad Pitt), the Dragon Tattoo sequel The Girl in the Spider's Web, the animated Spider-Man: Into the Spider-Verse, and more.
The first Jumanji, inspired by the illustrated Chris Van Allsburg book, hit theaters in 1995. The Rocketeer director Joe Johnston helmed the story about a board game that had the power to suck a player into its world, and also to unleash parts of that world out into our own. Robin Williams starred, and many scenes of CGI animals smashing through walls followed.
After that, Jumanji lay dormant until the 21st century, when Sony decided to give it a facelift. The end-result was 2017's Jumanji: Welcome to the Jungle. Both a sequel and a reboot, Welcome to the Jungle changed Jumanji from a board game to a video game, and featured a story about a group of teens who get transported into the a jungle world, and have to play the game to escape. The film featured Dwayne Johnson, Jack Black, Kevin Hart, and Karen Gillan, and was surprisingly very entertaining, and funny. Black in particular garnered a lot of laughs playing a teen girl trapped in the body of, well, Jack Black.
/Film writer Karen Han was spot-on whens he called the movie  "the purest, silliest form of escapist art."  Not only was Welcome to the Jungle surprisingly good, it was also a surprise smash-hit. It ended up becoming Sony's highest grossing non-Spider-Man movie. Now Sony will try to recapture that box office magic and turn Jumanji into a full-fledged franchise.