Bradley Cooper And Robert DeNiro Discuss 'A Star Is Born,' Their Collaboration And More At Tribeca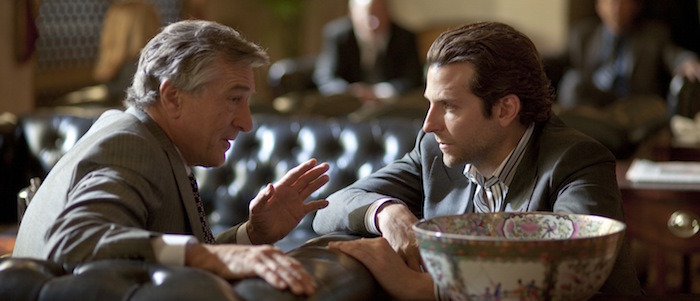 After two high-profile Q&A disasters at panels with the cast of Scarface and TV's Westworld, the organizers of the Tribeca Film Festival had to breathe a sigh of relief when Robert DeNiro stepped on stage and had very little to say. The festival's co-founder had an hour with Silver Linings Playbook and American Hustle co-star Bradley Cooper but admitted he was outsourcing the questions to friends and family who could text him what they wanted to ask.
The result, to start, were some awkward pregnant pauses – but it ultimately led to Cooper filling in the silence with amusing anecdotes about his experiences with the legendary performer.
"Sometimes you do things and you don't realize the impact they have," Cooper began. "He's somebody that impacted me in a way he never even knew twice. I was a grad student here at the Actor's Studio, and I asked him a question from the audience. I was terrified because I thought the question was too odd [...] I was shaking, but I asked you the question. My question was, 'Was that something in the script or was that something that happened?' And you said, 'That was a good question.' It's like a white shock through my stomach, I didn't sit down – they had to pull me down [...] That really kept me going."
Later on, DeNiro sustained Cooper through an in-person meeting in 2008. Cooper was up for the role in Everybody's Fine that eventually went to Sam Rockwell, but DeNiro wanted to relay an in-person message to the young actor. "You're not going to get the role, but I wanted you to come because I saw something, and I see it now. That's it. Give me a hug," DeNiro told him. Cooper reflects, "That kept me going FOREVER."
But, of course, the information most people in attendance wanted to know pertained to Cooper's upcoming directorial debut, A Star Is Born. The project has been an all-consuming one for Cooper, who, by his own admission, said he hadn't worked on anything else since his final West End performance of The Elephant Man on August 8, 2015. So, what about it inspired Cooper to prioritize this film above all else at a time when his stock couldn't be any hotter with critics and audiences alike? Cooper offered this explanation:
"I never thought I should be directing any of those movies I've been in, but I always realized that I was a bit different than other people that were just acting because I was so obsessed with the storytelling part of it – how you film it, how you tell a story. This story, for some reason – Clint Eastwood was going to do it, a love story, and we were going to do it together. I thought I'd be too young for the role, but it kept haunting me, this broken love story. And shots kept coming into my head, and I realized I had to purge it in a way. And people were getting sick of me not directing because I was always talking! [...] I knew that I had to do it, whether it fails or not, I had to try. I wound up absolutely loving it.
Also, you can't lie when you sing. The best way to express love is through singing and music. If I could spread that in a way, it'd be special. Lady Gaga is a revelation, I've got to say. I don't want to say too much because maybe you'll hate the movie, but it's the movie I set out to make, which is hard to say. I just hope I get to keep doing it because I absolutely love it."
What should we expect to see from Lady Gaga? Cooper spoke about their partnership:
"She said, right from the beginning, that this was going to be a barter. 'I'm going to rely on you to get a performance that's honest out of me (because she'd never done a film before), and I'm going to make sure that you turn into a musician. Because we're going to sing everything live' – and I thought, wait, wait, what? She was like, 'I can't stand when I watch movies with music in them when there's a pre-recorded track and you can tell people are lip synching.' And she's right. And that was terrifying, but I really relied on her. I had the benefit of time, I spent a year and a half taking vocal lessons, working on it and singing in front of people."
DeNiro told the crowd that he saw a recent cut of the film and sung its praises (figuratively). "It was terrific, he was great it in, the movie was wonderful, and I really hope that it gets the attention I feel it should," he gushed. "It's very special, you can see all the work you did." (/Film's own Peter Sciretta saw footage from the film at CinemaCon.)
"We also had the benefit of editing," Cooper said of his unhurried post-production process after a tight 42-day shoot. "I've been editing for a long time. The movie was supposed to come out in May and now it's October, and that was a benefit."
DeNiro's not the only person to see it and weigh in, either. David O. Russell, the writer/director who cast Cooper in his last three features, gave notes. He came to Cooper's house, where he edited the film, three times – including once when the film ran an unwieldy two hours and 45 minutes. "I'll never forget," Cooper divulged, "he looks at the screen and wrote notes in a tiny notepad. He had to rush to the airport, and I'm talking to him and you can hear the people talking about the safety belt, and they're saying, 'Sir, put the phone away.' He's giving me the notes that he'd written down and spent 25 minutes going through them. It's that kind of support and camaraderie that I'd always read about – Scorsese and you [DeNiro], the Coen Brothers and their actors – but to be the kind of person who is loved and admired so much to help me create art is incredible."
Russell was in attendance at the talk and eventually wound up joining Cooper and DeNiro on stage to tell even more anecdotes about their collaboration before opening up to the audience for questions. They covered a lot as it pertained to the work they'd done, but the highlight of the session came when someone asked DeNiro if there was any role he'd never play. "I'll give you one guess, then I'll tell you," he responded with amusement. "Donald Trump."
You can watch the full talk on Tribeca's Facebook page.