'Fast & Furious Supercharged' Ride Is Now Open At Universal Orlando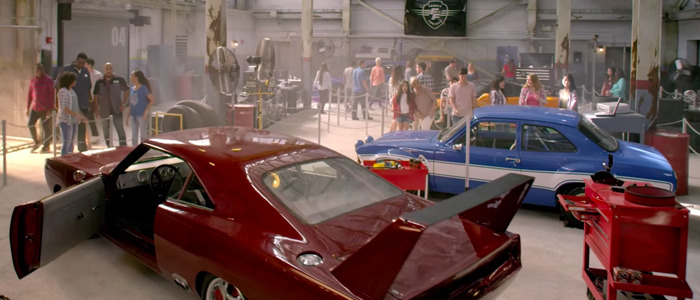 As the infamous Candy Ass saga continues to play out behind the scenes of the Fast & Furious film franchise, the film series' theme park prospects are, in contrast, looking pretty bright. Today, Universal Studios in Orlando, Florida opened Fast & Furious Supercharged, a new attraction that's slightly different from the one that currently exists in Universal Studios Hollywood. Watch a quick video and read up on the differences below.
Fast & Furious Supercharged
Here's the official description of the new attraction:
Join the Fast & Furious family for a full-throttle, high-octane experience where you'll be immersed in heart-pounding action alongside Dom, Letty, Hobbs and the rest of the crew. You'll meet up with the team and check out iconic vehicles and memorable locations from the films. Just as the party is getting started an enemy infiltrates your location and a wild chase ensues. You'll have to keep up with this unbreakable family as they help you escape from danger on this thrilling new ride.
How Does This Differ From the Hollywood Version?
At Universal Studios Hollywood, Fast & Furious Supercharged is incorporated into a larger studio tour of the Universal backlot. It's conceivable that some people could step onto the tour cart without even knowing that they're going to experience the attraction at all. That's not the case for the Orlando version, which is a standalone experience that has 15 prop vehicles and other details laid out in the queue area for fans to explore while they're waiting in line.
In Hollywood, there's a lead-up to the ride that takes place during other aspects of the backlot tour. Hobbs (Dwayne Johnson) takes over the screens on the tram and warns riders that Owen Shaw (Luke Evans, the villain from Fast & Furious 6) is hunting one of the riders on the tram, so everyone will be escorted to a safe place. The tram eventually arrives at a garage, where riders meet up with video versions of the rest of the team before a chase breaks out.
In the Orlando version, it looks like there will be an in-person briefing from a ride employee about the dangers of the mission ahead. And this time, Tej (Ludacris) and Mia (Jordana Brewster) join up with Dom (Vin Diesel), Letty (Michelle Rodriguez), and Roman (Tyrese Gibson) to get in on the action.
Universal Orlando is reportedly going to celebrate the opening of the attraction with a star-studded event on May 2, 2018 that's slated to feature members of the film's cast. You can bet that Vin Diesel and Dwayne Johnson won't be sharing that stage together.