'Jurassic World: Fallen Kingdom' Star Bryce Dallas Howard On Michael Crichton's Philosophy And Sexy Ian Malcolm [Set Visit Interview]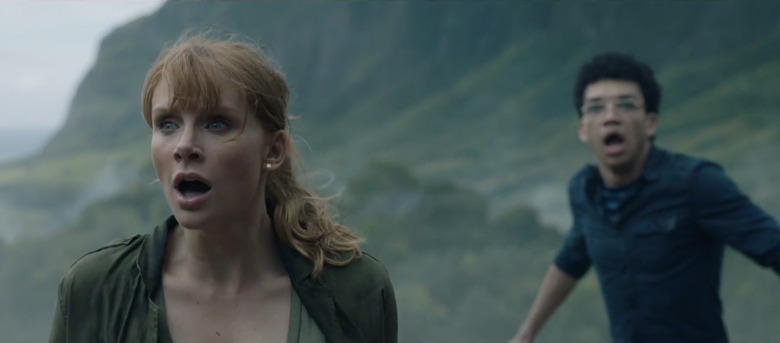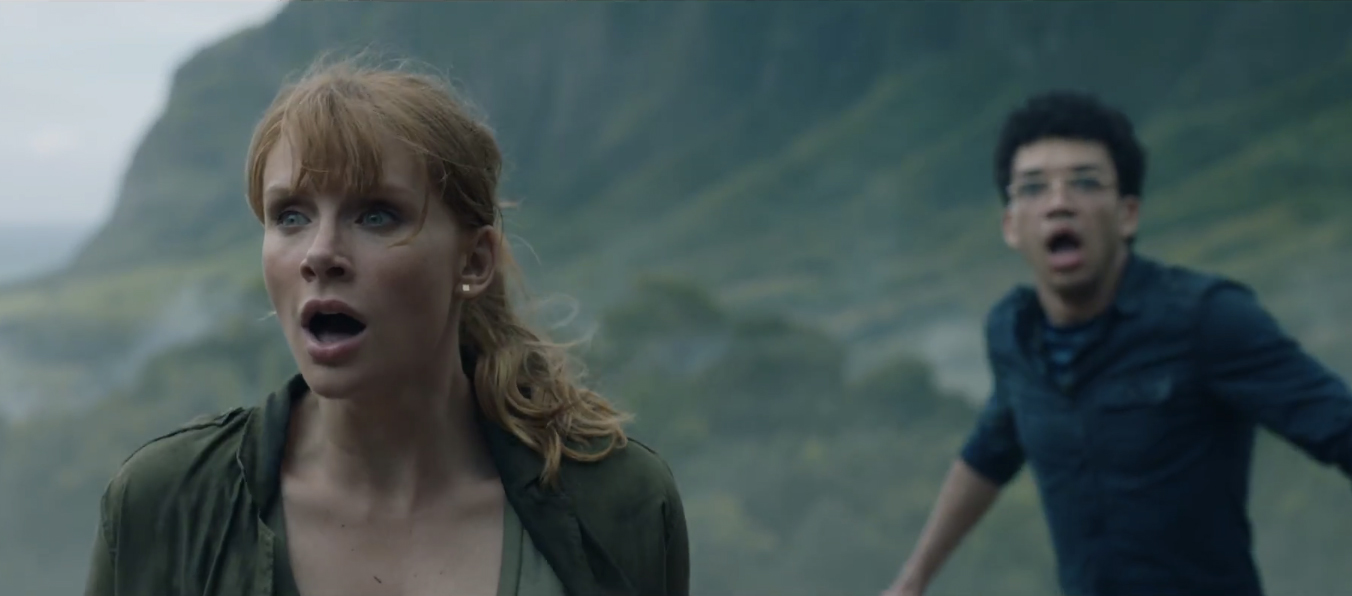 In June 2017, I traveled to Honolulu, Hawaii to visit the set of Jurassic World: Fallen Kingdom. This week, we have been running a ton of coverage from this visit. It began with an interview with producers Frank Marshall and Pat Crowley, and continued with an interview with director J.A. Bayona. Today, we present our conversation with returning star Bryce Dallas Howard.
This roundtable interview was conducted alongside Eric Vespe from Rooster Teeth.
***
I like that premise here because of what it means for your character. In the first movie, Claire goes from someone who is cold and disconnected to realizing the implications of what she's been doing. J.A. told us you start this movie as a dinosaur rights activist, which means Claire gets to start the movie from a proactive position.Bryce Dallas Howard: It is. And going back to speak to what you were saying about being glad that it's back on the island, I feel the same way. Having shot so much of the movie in England... On the last movie we started in the jungle. We shot all in the jungle and then we went to New Orleans. For this one, we shot so much of it [in England] and then came here and Chris and I were like "Yeah, now it feels like Jurassic. Thank God!"
Without human beings entering into a space that is dinosaur turf, it doesn't feel like the Jurassic experience. That's a lot of what this movie is about. Up to this point the entertainment value of these films is that the most dangerous thing is the dinosaur where the truth is it's really human beings that are the most dangerous species. Finally in this movie we're having that clash. We've been on their turf and now they're coming on ours and ours is becoming theirs and what does that mean? That's the question.
What I'm talking about right now isn't actually the plot. I'm not tricking you, but from a thematic standpoint, that's the movie. The wish-fulfillment of Jurassic is the question "What if human beings and dinosaurs coexisted simultaneously? What would happen?" There are various permutations of what could occur. That's what these stories are examining.
They told us this takes place 5 years after the last one. What has happened in your character's life in those five years?Bryce Dallas Howard: I keep thinking 3 [years], but anyway!We were told it's 5 years from the end of the first movie and three years from events of the prologue in this movie. Does that make any sense?Bryce Dallas Howard: I'm gonna ask some questions! What I'm imagining is that it's been roughly the same amount of time that audiences have been away from this story. It's like everything has been occurring in real time, basically. When we watch this movie it's as if it takes place in 2018.
To speak to what you were saying regarding Claire and the way she's shifted, her internal self and her external self are starting to become one whereas in the last film, her behavior, her actions were really out of alignment with her values. That was the inner conflict with the character and by the end of it her power is being used for good; her righteousness is being used for good. The very thing that was leading her astray is the very thing that saved Chris Pratt and two cowering children surrounded by stuffed animals!
Where we are now, I think, is we're seeing a woman who is definitely stepping into her power. She's fighting for these dinosaurs. She's taking responsibility and trying to basically present the argument that there's lions in the world and there are dangerous species of snakes and sharks... there's all these dangerous creatures and yet if those creatures are threatened with an extinction level event we protect them. So, guys, we have an endangered species here. They're actually here. This is now reality.
It doesn't matter that they were genetically created by man.Bryce Dallas Howard: Yes. They're afforded the same rights as any other endangered species. That's her point of view of the situation and this is her cause.We know there are some newcomers and you'll be with Chris again onscreen, but tell me how Claire reacts to Ian Malcolm.Bryce Dallas Howard: Oh my gosh. I have a real hard time separating my own personal reaction to Dr. Ian Malcolm from Claire's reaction.So you just keep seeing the shot of him with his shirt open from Jurassic Park?Bryce Dallas Howard: Exactly! That glistening chest, black shirt and perfect golden tan. Totally bronzed. I know that shot vividly! I could probably guess the lens they were using, but anyway... [laughs] I met him a couple of years ago. I mean, I didn't meet him, I saw him across a crowd. I saw him and he was his charming self, but I never met him because he was across the crowd, but we had a connection from the start. Then I met him in the UK. I think that Claire would absolutely have the utmost respect for his approach and his logic and his certainty and confidence. He's also very tall and did I mention he's tan and I happen to know he also sings and plays music...And cooks!Bryce Dallas Howard: And cooks food. But where does Jeff Goldblum end and Dr. Ian Malcolm begin, really? Wouldn't it be so crazy if the twist of the movie is that Claire ended up with Dr. Ian Malcolm? Forget about the dinosaurs, people!Well, we know he's always on the lookout for the next ex-Mrs. Malcolm.Bryce Dallas Howard: Yes! Yes! Yes!And the ultimate arc of these films is seeing him get married and divorced over and over again.Bryce Dallas Howard: Yeah, who he goes through. That's the real journey. Oh my gosh, that would be really funny.But from a character perspective, Claire in the first Jurassic World seemed to not have any nostalgia for the original park or the goings on there. I imagine she might have a different reaction to Malcolm then as she would now.Bryce Dallas Howard: He's a character who is the voice of reason. He's Michael Crichton, in a way. He's the philosopher. You're right, at the beginning she was disconnected, but now it's a different story. I've never actually thought about what Claire would think about him. That's interesting because she would have known about him. Ugh! I didn't do my homework!
So, what is the plan? The plan is to save the dinosaurs, but bring them where?Bryce Dallas Howard: I mean, that's part of the question. If you can imagine what you would do in real life, that's the dilemma. Where do you bring them? Do you put them in a zoo? Do you create a private sanctuary? Do you do this all over again with another island? What's the plan exactly? It's so weird the way art mirrors life. The challenge that we're having with emerging technologies and the consequences that we're needing to live with because of these paradigm-shifting technologies that are getting introduced. Figuring out policy about these technologies from a government perspective is almost impossible.
Our government was designed to move slowly so that our lives didn't change abruptly, yet our lives are changing abruptly because of free trade and the open market is evolving so, so quickly. We are experiencing this moment where we are having to regulate ourselves, hence this Dr. Ian Malcolm being the voice of reason and representing, thematically, what this movie's about. Where do we bring the dinosaurs? You can imagine the government would get involved with something like that, but would they figure out what they're going to do quickly enough? If not, what do you do? There's a lot of activism happening right now to accelerate the solutions. Anyway, I'll step gently off my soap box... [laughs]
I do love that this film seems to be going back to the Michael Crichton style of having a political commentary, of saying something about us.Bryce Dallas Howard: Yeah, absolutely. He's like Isaac Asimov or H.G. Wells. He's a futurist. He was a scientist and he understood what was going to be happening in the future. He had an analytical mind that he used to help propel his imagination. He was one of those guys, one of those thought prophets.
The moral questions of the first Jurassic Park provided a lot of substance, but those questions are really what we're dealing with presently that feels so urgent and so personal. To get to make a Jurassic film where at the center of it is Michael Crichton's philosophies so we can have that mirror moment, that's when movies get to do more than what movies typically get to do. A little bit. If we can. Because it can't be didactic.
What Crichton did was he never pushed an agenda at all. He presented a dilemma. That's what sci-fi is! Sci-fi is all about "what if?" I don't have to tell you guys what sci-fi is... [laughs] But it's not about the answers, it's the questions.
The genius of the initial concept of Jurassic Park is... I want to go there! I'm on the side of the people making the park because I want to see a T-Rex. When you're reading it, you realize "Ahh, I'm kind of the bad guy for wanting this..." There's a level to complexity to that initial idea and it sounds like you guys are expanding on it.Bryce Dallas Howard: Yeah, it is the dilemma. If something can be a little bit thought-provoking and a lot of fun then even that's enough. It's when things don't have a point of view [they fail.]What is Claire's relationship now with Owen?Bryce Dallas Howard: That's... that's... that's a question, for sure.We've been told that one of them moved on and one of them didn't.Bryce Dallas Howard: Okay.Which one moved on?Bryce Dallas Howard: You know what? That's a question that they ask one another. [laughs] You guys will know what that means when you see the movie! It's based on an improv that Chris and I had in a room early on. In the trailer this morning, I announced to the trailer "I'm going to start a Google Doc and if you guys have any ideas for the next movie, if there is one, fingers crossed, let me know, no matter how wild." My makeup artist was like "You know what? You know what I really miss? Like I Love Lucy and the dynamic between Ricky and Lucy and how you would never think that they belong together, but they have each others back no matter what. The circumstances, the comedy, comes not from a lack of understanding, but from a lack of ability to communicate initially." She said this and I was like "I'm putting it in the Google Doc."
There's something about the dynamic between these characters that both plays into and against the tropes of movie relationships. It's always fun to think about that. Chris and I were talking through what kind of parents Claire and Owen would be and that lead us to talk about what kind of parents we are, are we helicopter parents or not, the ways in which we could be better and blah-blah-blah.
I was thinking later on, "You know what? I feel like Owen would be the helicopter parent and Claire would be chill and cool and be like you need to let them be what they're going to be." That would show the evolution of Claire. It's fun to consider those things and have room for those things. You set up the trope and then you play against it. You set up the trope and then I'm with a flare outrunning a T-Rex while he's cowering with children. I like to mention that every once in a while, at least three times in every interview. [laughs]
It'd probably be good to talk about [director J.A. Bayona] since he's the main new ingredient here. We know that he likes to play music. He told us there was a specific scene where there was no dialogue and you were looking at something and he played three different pieces of music: a romantic one, a scary one and a funny one and he said you ended up playing it three different ways.Bryce Dallas Howard: I'm shocked that I've never thought of or experienced doing that before. Joe Wright plays music on set, but it's more for levity between scenes. J.A. doing that changes everything instantly. This whole generation of actors came up as cinephiles. That's why we love making movies because we're obsessed with movies, so for him to play these classic scores and different kinds of music just instantly gets you into that headspace and you understand what the scene's about.
Also, we're working with a young actress... this is her first movie. She's naturally very gifted and extremely cerebral, so she's fantastic, but the music helps her just as much as it helps us. The premise of it was he was like "I'll do it for Izzy because it help her," and Chris and I were like "Oh my God, this is amazing!" Something about JA that is crazy... we met each other years and years and years ago. We had a general meeting that was for a movie he didn't end up directing, that I didn't end up acting in, but he was attached as a director and we had this meeting at the Chateau that turned into this two-hour dinner and I just fell in love.
He's so charming!Bryce Dallas Howard: Oh my gosh! He's so charming and passionate and adorable. When the movie didn't happen, I honestly and kind of jokingly referred to him as "The One Who Got Away." To all my friends! Like "The one who got away did another amazing movie without me!" When Colin [Trevorrow] was sharing with Chris and I who were the frontrunners he was hoping to work with and he mentioned JA I was like [gasp] "Dude, he was the one that got away!" He was like "You had a relationship with him?" "No, no, no." I love Colin so-so-so-so much and it was such an incredible experience working with him and I was super bummed he wasn't going to be directing this movie, so it was really crazy to me that he mentioned J.A. who was literally the person I've been joking about for 10 years as the one that got away.