'Jurassic World: Fallen Kingdom' Star Chris Pratt On Acting With Animatronic Dinos And Movie Legends [Set Visit Interview]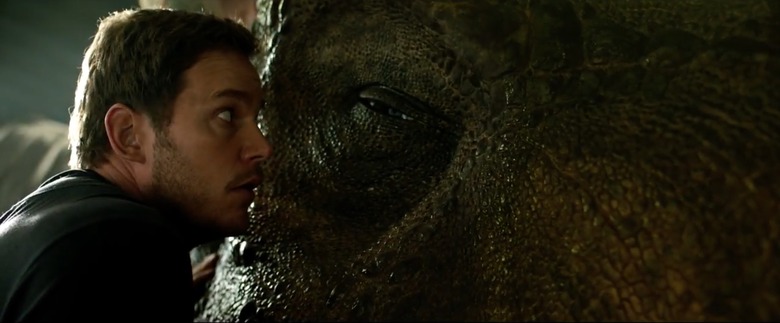 In June 2017, I traveled to Honolulu, Hawaii to visit the set of Jurassic World: Fallen Kingdom. This week, we have been running a ton of coverage from this visit. It began with interviews with producers Frank Marshall and Pat Crowley, director J.A. Bayona, and star Bryce Dallas Howard. Today, we present our conversation with Chris Pratt.
This roundtable interview was conducted alongside Eric Vespe from Rooster Teeth.
***
It's been a few years since Jurassic World. What has Owen been up to?Chris Pratt: I have an idea as to the backstory. What I know and what Bryce and I and J.A. have all decided on... We hint at it a little bit through the interaction between Owen and Claire, but I think he's been running away a little bit. Where we landed in terms of my backstory and our relationship is that something has broken us. We're not together. The thing that has broken us is that Claire feels as though she has to do something to make it right and Owen feels as though there's no way to make it right, so you have to move on. I think that's the thing that destroyed us.
Claire is now working for this organization and she's pouring all her energy into trying to save these dinosaurs and my character is like "let's go on a road trip. Let's forget what's happened. You keep obsessing about this." It all came from the idea that he's a combat veteran. He's been through some stuff beforehand, so this isn't the first time he saw something really terrible happen. He's come to realize you have to sometimes accept what you've gone through and realize there's no way of changing it. That's what broke them. It's a control thing between the two of them.
So, what he's been up to is he's been building a cabin by a lake, off the grid a little bit, probably drinking a little bit of beer and listening to music, hanging out... being solitary.
We know part of Owen's motivation for returning to the island is to help Blue. Can you talk a little bit about how Owen might be different this time around considering the experience he had last time? Has his point of view changed at all?Chris Pratt: Through the course of this film it will change, but it happens now, not between the two movies. He's coming to terms with his responsibility in working with the raptors and ultimately what the final intention with these things could be.
We do this cool thing... It's this video log from early on in the Raptors' lives. Owen kept a video diary tracking their progress, so we see the Raptors as hatchlings to two months old, then six months old. It's this way to look into just how mammalian they are in their intelligence levels and their cognitive reasoning skills. They exhibit behaviors of empathy. He starts to realize that they've created these things that look like raptors, but they're much more.
This movie really does open up a whole new concept for the Jurassic movies moving forward. You get an understanding that he knew a little bit more about these raptors than he'd want to let anybody know. I think he's cynical about Hoskins from the first movie, In-Gen, what their intentions are about creating animals this dangerous and this intelligent. You can assume what somebody bad would want to do with animals like that. Part of him feels as though the best case scenario is that they all die. When this island goes up in smoke it might be the right thing and maybe finally his responsibility for potentially creating a disastrous result with these animals will go away.
So, in a way he thinks it's a natural thing for the dinosaurs to go away, but what brings him there is not so much saving the dinosaurs, it's protecting Claire; his love for her. He knows she's too big-headed. He knows she's going to go. He's not going to let her go on her own, so it's his love for her that brings him back to the island. At first. Through the course he realizes there's a little bit more to his relationship with Blue. And that he's a robot. [laughs]
Yes, a learning computer. He's Arnold from Terminator 2, not Terminator 1.Chris Pratt: Yeah, T2! [laughs]The last film had a couple animatronics, but this one has a lot more. What was it like meeting these dinosaurs? I mean, I touched Blue and I almost cried.Chris Pratt: I know! It's really great. Because of the scenarios contrived in this film we have these passive dinosaurs. When you see the movie you'll see why they're not always running or jumping or leaping or doing things that animatronics aren't good at. They're sitting still. We did that in the first film with the Apatosaurus as it was dying in our arms. That was a real animatronic and it was amazing to hold this thing that felt living and breathing, its eyes were opening and closing. As many advancements in CGI that they've made since '93 when the first film came out they've also made some serious advancements in animatronics. These things are really very, very lifelike.
Because of these situations, we have a T-Rex and a Raptor that are full animatronic puppets. You got a dozen guys operating them and it's really cool. It's much easier as an actor to have something to react to. It's been great. Blue is awesome.
How cool is the Rex? We've only heard about that build. We weren't able to see her in person.Chris Pratt: There's an awesome moment where Claire essentially rides [a] passed out, drugged T-Rex, which wakes up and I have to dive through its jaws. It's a really crazy sequence...
[From next door, through the thin tent flap] Bryce Dallas Howard: SPOILER!
Chris Pratt: Hey, I read the talking points. It said I could talk about it!
[Still from the tent next door] Bryce Dallas Howard: Even the T-Rex?!?
Chris Pratt: It what it says right here! [to us] Of course, Bryce is over there listening.Bryce Dallas Howard: [laughs] And I wouldn't call us broken, Chris!Chris Pratt: You've got to read the talking points.Bryce was talking about how J.A. will play music between takes and sometimes during takes. You're used to that. James Gunn does that on the Guardians films. How is it different here with this movie?Chris Pratt: It's a great tool. I love it, I'm in full support of playing music through a take, even if it comes at the expense of the dialogue. Having a rhythm that's resonating through each person caught on screen is very, very helpful. You can forget that it's mid-third act and we are running for our lives. You're making this million piece puzzle and you may spend all day shooting something that takes five seconds. You get bored, you're sitting there annnnd action! Cut! You forget you're supposed to be breathing heavily. You forget when it's linked together it gets very manic and suspenseful. The music really helps with that.
J.A. uses that a lot and he uses it for jump scares. He has this whole playlist that's always wired in, including a T-Rex roaring. From time to time he'll play it and we'll all react to it naturally because we don't know it's coming. He loves to manipulate us in that way, which is really helpful as an actor. He'll scare us out of nowhere or do something unexpected.
Like, play a fart sound?Chris Pratt: [Laughs] Not yet. We're almost done, but he hasn't done that quite yet. But I like that. It's a good tool to use to get people excited or scared or give a sense of wonderment. Especially when he plays the John Williams score. [hums the main theme] Oh my God! It allows you to do nothing because in this film we are actors and we contribute so much, of course, but there are characters we don't even see because they're going to be animated, but they're going to need to have their moment or the score will need to have its moment. It's a big collaboration and sometimes you need to sit back and let the music take center stage. When you play that music it reminds you "Oh, I don't need to try to upstage this with acting or faces or anything. I don't have to do anything here, just let the music guide me and the audience to what we're supposed to be feeling."
There's some great stuff, like when we're flying to the island for the first time and we're looking out the window and he's playing this music and it puts you in the scene, like you're an audience member. It's really cool. I like it a lot.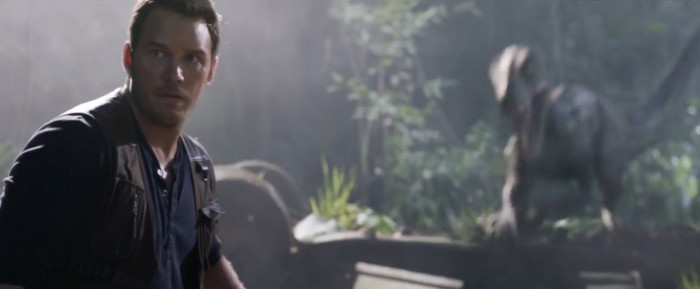 J.A. was telling us that there's a heavy focus on suspense in this film. There was a little bit of that in the first Jurassic World, but it was more focused on the spectacle of the new park and the disaster movie aspect of things going wrong. Hearing that this one was going rely more on suspense did that make you more excited to do this? I can imagine the worst thing for you to do is read the script and think "We just did this."Chris Pratt: It was really exciting to understand we were doing something really different. I was thrilled when I got the script. I think people have high expectations for sequels. I think with this one those expectations will be met, if not surpassed. It does something different. It opens up a new chapter. It's called Fallen Kingdom. The Kingdom of this movie is people stuck on an island with dinosaurs freaking out and killing everyone. That is falling and we're moving onto something else.
The first one was a disaster film. Shifting the tone over to suspense is really nice because I think with suspense you can do a lot with very little. You don't see Jaws for a good two thirds of the movie. You know he's there, there's music, you see the evidence of it... Not to say we're doing exactly that. I don't think that necessarily works as much anymore. I was just watching Jaws the other day with my son and he's like "Where's the shark?"
And you're like "Disowned!"Chris Pratt: Yeah, disowned! Get the fuck outta here! He's four and during the third act battle I was like "I'll show you the shark, get in here!" He was like "Aaaaaaaaahhh" and I was like [sternly] "You'll sit and watch! You earn this!"What's it like working opposite Jeff Goldblum?Chris Pratt: Man, he's amazing. A huge part of the success of Jurassic World was the success of Jurassic Park. It all started in '93 with them and with him. I know that we had the blessing of Steven Spielberg and Universal and fans, but it's nice that he signs up to do this movie because in a way it's giving it his blessing. That was really cool. He's a terrific actor and maybe the kindest actor out there. He's really cool and smart and funny and interesting. It's really awesome to have him in this movie.He has such a unique rhythm in how he plays things. He's different from everybody else. I feel like if I was in a scene with him I'd just become the kid that saw Jurassic Park and I'd be watching him instead of being in the scene.Chris Pratt: I feel like if I answer that I'll be giving away too much, but you do have to get it out of the way when you work with someone like Jeff Goldblum or I just did Guardians with Kurt Russell... You work with these people who are icons... It's a two step process. First, you have to be authentic and let them know just how crazy about them that you are. You make that really short and brief. You get that out of the way so you're not a liar or the guy that doesn't acknowledge them. You pay your respects.
After that you immediately move to step B which is you become a peer and a collaborator or else you lose their respect. If every time you see them you go "Dude, this is so crazy!" you might not be the right guy for this job. Even when you're feeling that the third, fourth, fifth, sixth day you work together you kind of have to bury that and get right to the work.
It's a strange thing being famous. I'm certainly not an icon like a Kurt Russell or a Jeff Goldblum. They are icons and maybe one day I will be, but if their journey is similar at all to mine you don't really feel that way about yourself, so if people feel that way about you it's kind of an uncomfortable situation that you politely and patiently wait for to be over so you can get back to being normal again. So you get through that stuff. You go "Oh my God, I love you! I can't believe we're working together!" and then you get to work.
All the great Michael Crichton stories had a little something on their mind. They weren't just adventure plots. They always had some kind of commentary. What do you think is on this movie's mind?Chris Pratt: [Pauses] It feels relevant to now and I think part of that has to do with technology, which is not necessarily something that doesn't serve the greater good, but is valuable. Maybe we put aside moral dilemmas because you can make money. It has a little to do with greed. That's a theme that resonated in the first movie as well and continues to resonate in this series. It's a cautionary tale against greed and over-ambition and a lack of respect for the natural order and confidence in our ability to control that which we can't control.Which is Dr. Malcolm's stance in that first movie, so it makes sense that he's back in play here.Chris Pratt: Yeah, that's right.Who are the real monsters: the humans or the dinosaurs?Chris Pratt: That's a good question! [laughs]