'Duck Butter' Review: Sparks Fly In Alia Shawkat's Intimate, But Underwhelming, Lesbian Drama [Tribeca]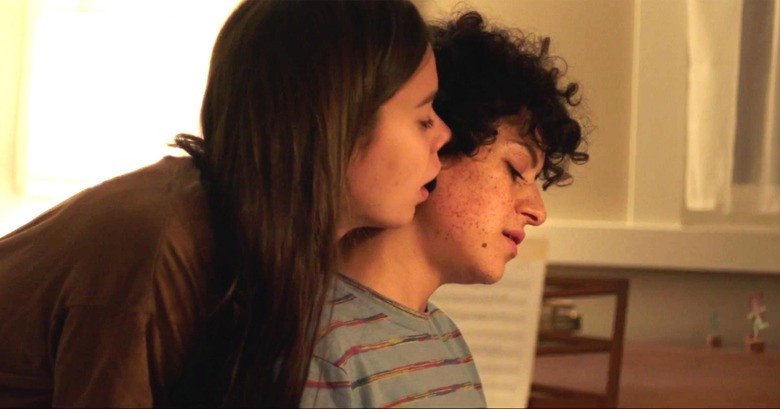 Duck Butter is not a film about a whirlwind lesbian romance — rather, it's a slow-moving train crash about a relationship that appears doomed from the start. But it's one that you can't look away from.Alia Shawkat stars in and co-writes the Miguel Arteta-directed dramedy about two women who embark on a 24-hour experiment that puts the fast-forward button on their relationship. But the experiment — which involves them having sex every hour — takes a dramatic turn as emotions and unresolved issues come to a head. Duck Butter is a slow-burning drama whose every story movement is deliberate, every long silence is dense with meaning, and every emotion feels explosive. But there's an unease to watching the film and knowing the inevitable outcome of this romantic experiment: the penny will drop, the love will fail, and the s*** will (literally) come out.Duck Butter is an intimate drama that plays with the concept of time and romance in a way that feels achingly authentic. But it comes peppered with whimsical and funny moments that prevent the film from becoming a little too real.
Written by Shawkat and Arteta, Duck Butter follows Shawkat's Naima, a struggling actress who just booked her first big gig on a Duplass brothers (Mark and Jay Duplass, playing themselves) indie film. But after clashing with the Duplass brothers over their comedically vague direction, she finds herself deflated. Later that night, Naima accompanies her friend Ellen (Mae Whitman) to a club, where she meets the quirky, easy-going Sergio (Laia Costa), a Spanish singer performing at the venue. They instantly hit it off, and Sergio whisks a guarded Naima off to her house where they have a steamy one-night stand. And in the afterglow of their tryst, they ruminate over the sorry state of modern romance and wonder what it would be like to spend the next 24 hours together. "We can skip time!" Sergio excitedly declares to a skeptical Naima.
Naima initially backs out, her insecurities rearing their ugly head, but returns to Sergio's the next morning after she is suddenly fired from the movie set. She and Sergio set up the rules of their pact: they will spend the next 24 hours together, having sex on the hour.
Despite its premise, Duck Butter is not the sordid love affair nor the charming romantic-comedy that it appears to be. Instead, it's a crazy-quilt of romantic indie influences, echoing the youthful fervor and romantic experiment of Richard Linklater's Before Sunrise, and capturing the prolonged emotional devastation of Like Crazy. But while Duck Butter's cinematic cousins are clear, it doesn't quite live up to the impact of its predecessors.
The onus of the movie lies on Shawkat and Costa's performances, which are inarguably great. Shawkat and Costa bring a spontaneity to their characters most intimate moments, in both the raw and unvarnished sex scenes, and the moments of meandering dialogue in-between. But you can tell that Shawkat had a hand in the screenplay, as Naima is clearly the more fleshed out character of the two. She gets to undergo the journey of self-actualization, she is the one who is urged out of her shell by the flighty Sergio.
Shawkat (who until now has mostly had supporting roles in comedic films like Whip It, The To-Do List, and the TV series Arrested Development) flexes her dramatic chips as Naima, whose insecurity is the most fascinating and frustrating part of this film. But while Naima's pushy judgmental tirades about the environment seem like a neurotic quirk at first, it borders on boorish toward the end of the film. Naima a character who is all rough edges — and while she briefly softens throughout the course of Duck Butter, she seems doomed to return to the prickly persona that she had in the first place.
Meanwhile Costa (best known as the lead in the German heist thriller Victoria) brings to dazzling life a character who, for the most part, is simply a collection of tropes from the manic pixie dream girl guidebook. She's a flighty artiste who draws heavily-lidded eyes on her front door and rolls her "r's" like a college girl's exotic fantasy. Even morally depraved things like her blackmailing her producer come off as a charming quirk. Her only flaw for much of the movie seems to be her volatile temper — until her condescending mother arrives on the scene and reduces Sergio to a teary mess. But this subplot arrives so late in the film that it's not enough — but at the end of the day, Sergio still comes across like a damaged beauty.
But as half-baked as Naima and Sergio sometimes feel, their interactions are blisteringly real. And Arteta's wandering, intimate direction help intensify that. The Beatriz at Dinner director fills Duck Butter with natural, sun-dappled lighting, rarely venturing beyond the hazy aesthetic of dimly lit rooms. Duck Butter is never gratuitous, lingering on intense close-ups of Naima and Sergio's faces, whether they are contorted in ecstasy or in grief.
It amplifies the torrent of emotions that overtake the film. But despite a promising emotional climax, Duck Butter abruptly ends without a satisfying follow-through. Instead, the high emotions are interrupted by a sudden bit of scatalogical humor — one that is totally earned, but shocking all the same. It leaves you with a confused mix of emotions: high off the emotional distress, appalled by the amount of poop that just appeared on screen, and dissatisfied with the collapse of a turbulent experiment.
It's unfortunate, then, that Duck Butter only simmers and never sizzles. The emotions never feel more real, but its payoff never feel more hollow.
/Film Rating: 6.5 out 10