Watch The First Two Amazing Minutes Of 'Batman Ninja'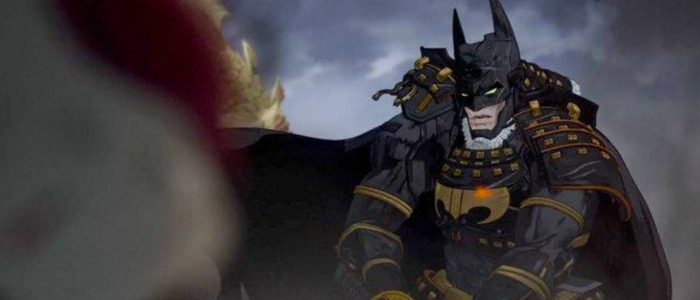 Batman Ninja, a new animated movie that drops the Dark Knight into Feudal Japan, looks amazing. If you can't wait to see the film, the first 2 minutes of Batman Ninja footage have found their way online for your viewing pleasure.
Many modern DC animated films leave a lot to be desired. The animation tends to be rather bland, lacking style or distinction. Batman Ninja, however, looks like the complete opposite. This new animated adventure directed by Junpei Mizusak looks incredible, loaded with style and energy. Playstation uploaded the first 2 minutes of Batman Ninja online, and while this footage appears to only scratch the surface of the story, it looks pretty damn cool overall.
Batman Ninja Footage
I have to admit: I'm slightly disappointed that Batman Ninja offers up an explanation as to how Batman ends up in Feudal Japan. I had previously assumed this was being treated as an Elsewhere story, where there's no explanation and we're just dropped into the story. But I suppose someone, somewhere, thought it would be good to explain why Batman is suddenly a ninja. Go figure.
Here's the official synopsis.
Batman Ninja takes a journey across the ages as Gorilla Grodd's time displacement machine transports many of Batman's worst enemies to Feudal Japan – along with the Dark Knight and a few of his allies. The villains take over the forms of the feudal lords that rule the divided land, with the Joker taking the lead among the warring factions. As his traditional high-tech weaponry is exhausted almost immediately, Batman must rely on his intellect and his allies – including Catwoman and the extended Bat-family – to restore order to the land, and return to present-day Gotham City.
Batman Ninja will make its way to Blu-ray in the U.S. on April 24, 2018. The English language version of the film features the voices of Roger Craig Smith as Batman, Arrested Development's Tony Hale as the Joker, Grey Griffin as Catwoman, Tara Strong as Harley Quinn and Poison Ivy, Adam Croasdell as Alfred and Nightwing, Yuri Lowenthal as Robin, Fred Tatasciore as Gorilla Grodd, Eric Bauza as Two-Face and Tom Kenny as The Penguin. 
If you haven't watched the Batman Ninja trailer yet, the Japanese language and English language versions are both below.
Batman Ninja Trailer (English) 
Batman Ninja Trailer (Japanese)
The Batman Ninja Blu-ray release will have both English and Japanese language versions available. It's also apparently 135 minutes long, which is kind of insane. I can't wait to watch it.