Why 'Fallen Kingdom' Is The First 'Jurassic Park' Movie Shot In CinemaScope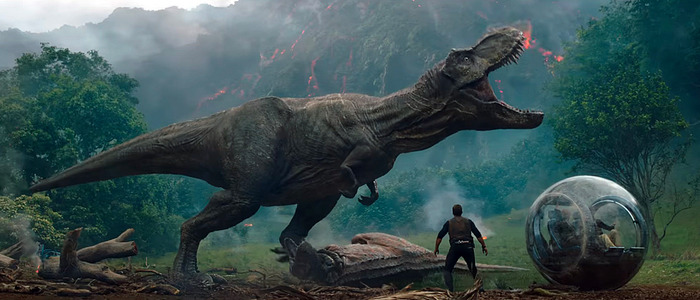 Jurassic World: Fallen Kingdom is going to be big. So big, in fact, that it's been shot in CinemaScope – a widescreen format that no other Jurassic film has been shot in before. During a Fallen Kingdom set visit, director J.A. Bayona explained why this is the first Jurassic Park movie filmed in this format.
Get ready to see Jurassic World: Fallen Kingdom on the biggest screen possible. Steven Spielberg shot the first Jurassic Park in a 1.85:1 aspect ratio. When it came time to make Jurassic World, Colin Trevorrow shot in a 2.00:1 ratio. Now, director J.A. Bayona has gone even bigger, filming his Fallen Kingdom in 2.40:1 CinemaScope.
"I thought we wanted to make it bigger and we wanted to make it more epic," Bayona said during a Jurassic World: Fallen Kingdom set visit. "And I can tell you it looks amazing."
CinemaScope has been around since the 1950s. Per Wikipedia, "CinemaScope's anamorphic format has continued to this day. In film-industry jargon, the shortened form, 'Scope, is still widely used by both filmmakers and projectionists, although today it generally refers to any 2.35:1, 2.39:1, or 2.40:1 presentation or, sometimes, the use of anamorphic lensing or projection in particular."
Spielberg used 1.85:1 for Jurassic Park and The Lost World: Jurassic Park, and Joe Johnston followed suit with Jurassic Park 3. Colin Trevorrow wanted to go even bigger for Jurassic World, but settled on 2.00:1. Now, Bayona has decided to go even bigger. When it came time to film, Bayona wanted to fill the frame as much as possible. He also wanted to avoid a cinematic look suited for tiny airplane screens.
"I think one of the things I'm telling the camera operator all the time is that we need to do a movie that cannot be seen on a plane," said the filmmaker. "So we are using all the format, from the extreme right to the extreme left.  We are filling the frame in a beautiful way." Bayona even went as far as to compare the look of Fallen Kingdom to something shot by cinematographer Vilmos Zsigmond, who filmed Close Encounters of the Third Kind, The Deer Hunter and McCabe and Mrs. Miller. "You saw the frames [of a Zsigmond shot film] and they look like paintings," said Bayona, adding: "And Steven [Spielberg], all the Indiana Jones movies and the frames, they look like paintings.  And I wanted to have that in this in a Jurassic movie.  So we created this big canvas."Jurassic World: Fallen Kingdom hits theaters on June 22, 2018.