'Crazy Rich Asians' Trailer: The Asian-Led Rom-Com Sets The Gold Standard For Summer Comedy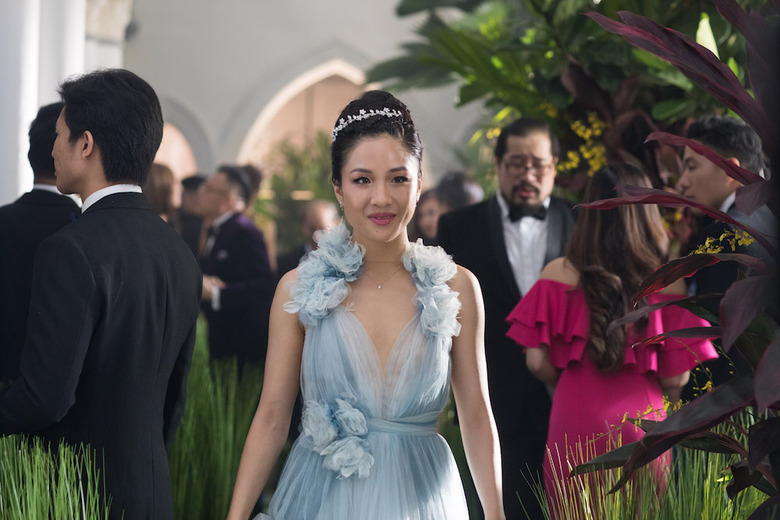 This is it. This is the Asian-led romantic comedy that we've been waiting for. And it looks fabulous.
The Crazy Rich Asians trailer is wealthy in both opulence and in talent, with Fresh Off the Boat's Constance Wu leading an ensemble cast that includes the legendary Michelle Yeoh, comedian Awkwafina, and more.
Crazy Rich Asians Trailer
Seeing Constance Wu and Michelle Yeoh trade jabs almost makes me as happy as the dazzling riches and fashionable dresses that every single cast member gets to parade in. It's like watching a Korean drama on steroids — and that's a good thing. The Crazy Rich Asians trailer hones in on the clash of cultures between middle-class Asian-Americans and billionaire Singaporeans, but isn't afraid to throw in some classic rom-com hijinks: Rachel (Wu) spills red wine all over her boyfriend Nick's (Henry Golding) crisp white suit! There's a gay best friend! Ken Jeong is wearing a cape?
Based off of Kevin Kwan's fluffy novel of the same name, Crazy Rich Asians shouldn't feel so radical. But it is. The glamorous romantic-comedy boasts an entirely Asian and Asian-American cast, led by the insanely talented and funny Constance Wu. (Seriously, if you're not watching her kill it on Fresh Off the Boat every week, you're missing out.)
Wu stars as Rachel Chu, a Chinese-American woman who joins her boyfriend on a trip to his home country of Singapore to attend his best friend's wedding. But little does she know that her boyfriend Nick (Golding) is actually Singapore's richest, most eligible bachelor, and that her arrival in Singapore has caught the attention of virtually every socialite in the country, not to mention Nick's stern mom (Yeoh).
I couldn't be more excited for Crazy Rich Asians, which heralds the coming of the first major Hollywood rom-com with an all-Asian cast. The book was a fun romp, replete with ridiculous situations and hijinks, and a splattering of familiar cultural cues. But Crazy Rich Asians shouldn't alienate anyone who's not an Asian-American — the familiar story of meeting the disapproving parents is as universal as can be.
Here's the official synopsis for Crazy Rich Asians:
The story follows native New Yorker Rachel Chu (Wu) as she accompanies her longtime boyfriend, Nick Young (Golding), to his best friend's wedding in Singapore.  Excited about visiting Asia for the first time but nervous about meeting Nick's family, Rachel is unprepared to learn that Nick has neglected to mention a few key details about his life.
It turns out that he is not only the scion of one of the country's wealthiest families but also one of its most sought-after bachelors.  Being on Nick's arm puts a target on Rachel's back, with jealous socialites and, worse, Nick's own disapproving mother (Yeoh) taking aim.  And it soon becomes clear that while money can't buy love, it can definitely complicate things.
Crazy Rich Asians opens in theaters on August 17, 2018.