The Funniest Character From The 'Deadpool 2' Trailer Has His Own Twitter Account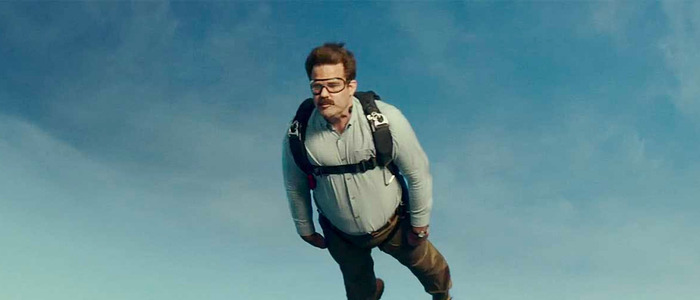 The biggest breakout star of the new Deadpool 2 trailer wasn't Deadpool or Cable. Instead, it was Peter, the average-seeming individual played by Catastrophe star Rob Delaney. If you . need more Peter action, you're in luck: the character has his own (verified) Twitter account.
While I'm a bit of a Deadpool agnostic, I was pleasantly surprised by the new Deadpool 2 trailer. The joke that got the biggest laugh out of me came at the end: after a score of superheroes have been introduced, an ordinary guy named Peter shows up and asks to join Deadpool's X-Force team. Rather than turn him away, Deadpool welcomes him aboard, leading to a moment where Peter is skydiving. Here's the Peter scene isolated from the rest of the trailer, just in case you want to watch it again.
Based on the trailer alone it's clear Peter will be the breakout character of the film, and the Deadpool marketing department is leaning into this. They've created an official Peter Twitter account, which gives us more insight into the character (sort of).
"Husband. Experienced Apiarist (Beekeeper). I like sports and grilling on my deck. DM for info," says Peter's bio. One of the most amusing things about this Twitter account is the fact that the first Tweet was posted back on March 24, which means this account was hiding in plain sight this whole time (unless it was set in private mode).
Wife's always telling me to "get out of my comfort zone!" So, I figure making a twitter and doing this #BeDeadpools2nd thing is a great way.

— Peter W. (@PeterW_1974) March 24, 2018
From here, the Tweets offer more insight into Peter's personal life, ranging from his admiration for his wife, his disappointment that Frasier (or Frazier, as Peter spells it) is no longer on the air, to his love of Sketchers Shape-Ups.
Honestly, she spoils me. #lovemywife #familylove pic.twitter.com/7W94A5lGND

— Peter W. (@PeterW_1974) March 26, 2018
Check out this Samurai! I just found it on the web. pic.twitter.com/tzRjX6R8ty

— Peter W. (@PeterW_1974) April 5, 2018
I still can't believe they cancelled Frazier.

— Peter W. (@PeterW_1974) April 5, 2018
Whoever invented Skechers Shape-Ups, deserves a Nobel Prize for comfort. #CasualThursday #HappyFeet #LosingWeight #FootSpa pic.twitter.com/hkSO3rAw8v

— Peter W. (@PeterW_1974) April 5, 2018
Peter also offers us a glimpse into beekeeping lifestyle.
I'm not toking on drugs. Smoke is actually used to relax the bees around the apiary (beehive) so I can harvest their delicious honey! #DrugsFree #NotToking pic.twitter.com/dE3MlG3ZWI

— Peter W. (@PeterW_1974) April 8, 2018
Hope everyone's having a Bee-utiful day! 🐝 #BeeKeepingPuns

— Peter W. (@PeterW_1974) April 8, 2018
An experienced Apiarist (BeeKeeper) will NEVER use body moisturizers made with lavender shea butter. I hope this person is okay. #BeeResponsible pic.twitter.com/w8JFgIMMZt

— Peter W. (@PeterW_1974) April 10, 2018
Honey, I'm home! #BeekeepingPun #FlashbackTuesday pic.twitter.com/gbuTvtxzx0

— Peter W. (@PeterW_1974) April 10, 2018
Big time hive inspection today. Can't wait to lick this! #BeeUtifil #BeeSafe pic.twitter.com/IFlYqs8cpp

— Peter W. (@PeterW_1974) April 18, 2018
Excited about my new weekend job. Gonna make some extra Honey Money! #BeeHumor.

— Peter W. (@PeterW_1974) April 19, 2018
My biggest takeaway from this Twitter account is that the humor here is much funnier than anything that happened in the first Deadpool, and if this is a reflection of the humor on display in Deadpool 2, the film is in good shape. My second biggest takeaway? Peter is a very nice man.
I sometimes get annoyed by babies crying on planes. But then I realize the baby is just expressing an unmet need. #UnmetNeedsFriday

— Peter W. (@PeterW_1974) April 20, 2018
I appreciate all the attention. But I'm just an honest guy, looking for work in a contracting economy. #XForce

— Peter W. (@PeterW_1974) April 19, 2018
I'm so sorry this is happening to you. You can have some of mine. https://t.co/NlMMZFDxnS

— Peter W. (@PeterW_1974) April 19, 2018
Here's a shot of me with Santa as a little boy. His beard smelled like freshly brushed Dreams. And those are his real hands, by the way! #FlashbackWednesday pic.twitter.com/pGNAZF9nPx

— Peter W. (@PeterW_1974) April 18, 2018
It's worth noting that Rob Delaney's real Twitter account is pretty damn funny on its own, although most of the tweets are probably inappropriate to include in this post. Here's one that's Deadpool related, though.
I would be grateful if people didn't use this to make meams pic.twitter.com/z7h8E21Wu3

— rob delaney (@robdelaney) April 19, 2018


Deadpool 2, starring Ryan Reynolds, Josh Brolin, Morena Baccarin, Julian Dennison, Zazie Beetz, T.J. Miller, Brianna Hildebrand, Jack Kesy, Stefan Kapi?i?, and Rob Delaney, opens on May 18, 2018.
After surviving a near fatal bovine attack, a disfigured cafeteria chef (Wade Wilson) struggles to fulfill his dream of becoming Mayberry's hottest bartender while also learning to cope with his lost sense of taste. Searching to regain his spice for life, as well as a flux capacitor, Wade must battle ninjas, the yakuza, and a pack of sexually aggressive canines, as he journeys around the world to discover the importance of family, friendship, and flavor – finding a new taste for adventure and earning the coveted coffee mug title of World's Best Lover.