Exclusive 'Hostiles' Clip Goes Behind-The-Scenes Of The Grim Revisionist Western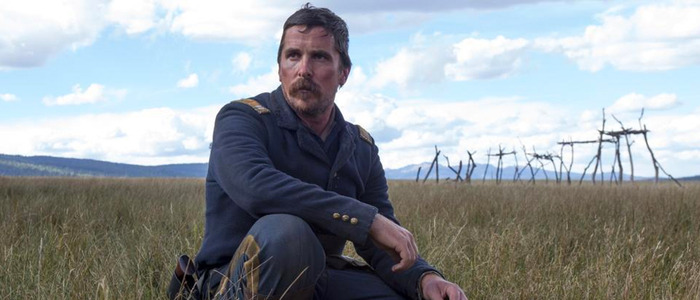 In anticipation of the Blu-ray and digital release of Scott Cooper's brutal Western Hostiles, we have an exclusive behind-the-scenes clip that looks at the film's harsh landscapes. See the Hostiles clip below.
Hostiles didn't make much of a blip during its theatrical run last year, but now the film is about to hit Blu-ray and digital. This will give audiences a chance to catch-up on Scott Cooper's brutal, unflinching, superbly acted revisionist Western. Ahead of the film's impending Blu-ray, DVD and digital release, we have an exclusive behind-the-scenes Hostiles clip.
Hostiles Clip
In this clip, producer John Lesher talks about the harshness of the landscape used for the film. He also pulls out the old "the location is like a character itself!" analogy, but he's not incorrect. The landscape really does play a big part in the film. A longer version of this clip, and more, will be included on the Blu-ray and digital release. Here's a list of features.
"A Journey to the Soul: The Making of Hostiles" 3-Part Documentary
"Provenance" Featurette
"Removing the Binds" Featurette
"Don't Look Back" Featurette
Reviewing Hostiles at TIFF for /Film, Marshall Shaffer wrote:
Hostiles features far more big narrative events and skirmishes than the usual existential, moody tone poem, and it has two effects. The first is that it unfortunately makes the film a little uneven, but the second (and more positive) is that it gives Bale and his companions plenty of opportunities to brood over their actions and treatment of the Native population.
Speaking about the film's post-Western tone, director Scott Cooper said:
"[Hostiles], while it is set in the American West, in 1892, I wanted it to be more about a human journey, a psychological journey. If anything it's a psychological western in the vein of Anthony Mann. There were a couple shots where I paid homage to John Ford's The Searchers. I don't think it's a western, it has more in common with Joseph Conrad or Larry McMurtry or Louis L'Amour."
Hostiles, starring Christian Bale, Rosamund Pike, Wes Studi, Jesse Plemons, Adam Beach, Ben Foster, Q'orianka Kilcher, and Timothée Chalamet, arrives on Digital and on 4K, Blu-ray and DVD on April 24, 2018.
Hostiles Blu-ray Trailer
Set in 1892, Hostiles tells the story of a legendary Army captain (Bale) who, after stern resistance, reluctantly agrees to escort a dying Cheyenne war chief (Studi) and his family back to tribal lands. Making the harrowing and perilous journey from Fort Berringer, an isolated Army outpost in New Mexico, to the grasslands of Montana, the former rivals encounter a young widow (Pike), whose family was murdered on the plains. Together, they must join forces to overcome the punishing landscape, hostile Comanche, and ruthless outliers that they encounter along the way.