New 'Avengers: Infinity War' Clip Has The Avengers Battling The Black Order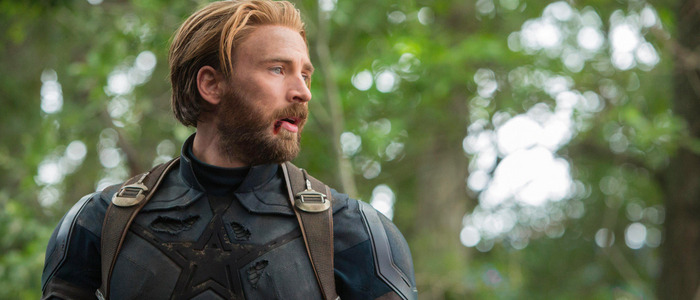 Oh, look, it's time for another Avengers: Infinity War clip. This quick snippet of footage features Earth's Mightiest Heroes fighting the villainous members of the Black Order. Lots of frantic camera footage follows. Watch the Infinity War clip below.
Here's a quick, kind of hard-to-follow Avengers: Infinity War clip that shows Chris Evans' Captain America, Scarlett Johansson's Black Widow and other Avengers doing battle with members of the Black Order. At least, I think that's what's happening here. It's hard to tell, because the footage is a bit chaotic. Try to make sense of it yourself below.
Avengers: Infinity War Clip
I sincerely hope this footage has been chopped up a bit to air on Good Morning America, and doesn't reflect the actual film, because it's a bit of a mess. My guess is that some bits and pieces have been cut here and there to avoid giving away spoilers. Not helping the matter is the fact that a huge Good Morning America banner takes up a chunk of the screen.
What we do get here, though, is a new look at Carrie Coon's character Proxima Midnight. She's one of the members of the Black Order, aka the "Children of Thanos", the super villain team backing up Thanos in Infinity War. The team consists of Terry Notary as Cull Obsidian, Tom Vaughan-Lawlor as Ebony Maw, and Carrie Coon as Proxima Midnight. There's also Corvus Glaive. An actor hasn't been announced for this part yet, but a voice emanating from this blurry footage sounds similar to Peter Dinklage. We know Dinklage is in the film, but we don't know who he's playing yet, so perhaps this is our answer. Or perhaps not. We'll know for sure next week.
Avengers: Infinity War, starring Robert Downey Jr., Chris Hemsworth, Mark Ruffalo, Chris Evans, Scarlett Johansson, Benedict Cumberbatch, Don Cheadle, Tom Holland, Chadwick Boseman, Paul Bettany, Elizabeth Olsen, Anthony Mackie, Sebastian Stan, Danai Gurira, Letitia Wright, Dave Bautista, Zoe Saldana, Josh Brolin, Pom Klementieff, Karen Gillan, Benedict Wong, Peter Dinklage, Chris Pratt, Carrie Coon, and perhaps Jeremy Renner, and directed by the Russo Bothers, hits theaters on April 27, 2018.
Iron Man, Thor, the Hulk and the rest of the Avengers unite to battle their most powerful enemy yet — the evil Thanos. On a mission to collect all six Infinity Stones, Thanos plans to use the artifacts to inflict his twisted will on reality. The fate of the planet and existence itself has never bee

n more uncertain as everything the Avengers have fought for has led up to this moment.