'Jungle Cruise' Adds 'Breaking Bad' Star Jesse Plemons As Another Villain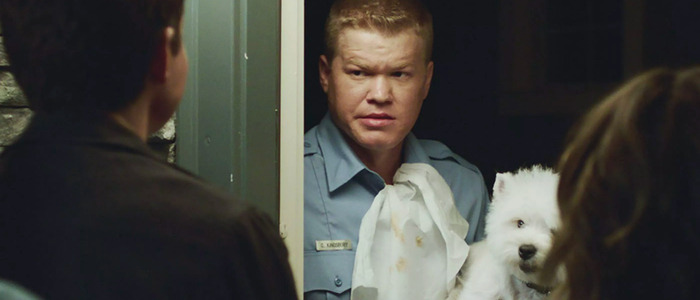 The Jungle Cruise cast continues to be grow, and it's getting even stronger. Jesse Plemons is the latest addition to the Disney film, which also stars Dwayne Johnson and Emily Blunt.
How many villains does Disney's Jungle Cruise need? At least two, it seems, because Variety reports Breaking Bad, Game Night and Fright Night Lights actor Jesse Plemons has joined the Jungle Cruise cast as yet another villainous character. This news comes a day after it was announced that Edgar Ramirez had also joined the cast as a villain. Perhaps Jungle Cruise is just too damn big to contain merely one bad guy.
The Shallows director Jaume Collet-Serra helms the theme-park ride inspired film, which Variety says Disney is planning to develop "as a possible franchise in the vein of its billion-dollar Pirates of the Caribbean series." Plemons is a great character actor, and adding him to film only makes an already strong cast even stronger. The cast now consists of Dwayne "The Rock" Johnson, Emily Blunt, Jack Whitehall, Edgare Ramirez and Plemons.
The Jungle Cruise ride opened in 1955 at Disneyland Park and originally had an educational tone. In the early '60s, Disney introduced more drama to the ride. Here's how the ride is described now:
Embark on a cruise where hippos, elephants and maybe even a headhunter await your arrival.
Trek to a forgotten tropical jungle outpost—home to suspended cargo nets, wooden crates and lanterns—and board a canopied tramp steamer for a tongue-in-cheek adventure led by a trusty skipper through some of the world's most treacherous rivers.
A True-Life Adventure
During your 10-minute journey, encounter awesome wonders of nature amid some of the world's most exotic locales. Highlights of your adventure include:
The Amazon in South America
Drift past a canopy of green trees and flowering orchids where giant butterflies meet rushing waterfalls.
The African Congo
Tour an abandoned Pygmy site, glimpse a massive python and snap a picture of a camp overrun by curious gorillas.
The Nile River 
Behold bathing elephants, angry hippos and hungry lions—but be on the lookout for a tribe of headhunters, recently spotted in the area.
The Mekong River 
Explore an age-old shrine, home to baboons, cobras and other wild creatures.
Along the way, take in lively narration from your friendly skipper, known for a brave heart and a clever joke... or two. It´s a ride you won't soon forget!
I better see all of this stuff in the movie, Disney, you hear me? I'm assuming Dwayne Johnson is the "friendly skipper" character, so he better be telling some clever jokes or else I'm storming out of that theater and asking for my money back.
Michael Green (Logan, Blade Runner 2049) wrote the most recent draft of the Jungle Cruise script, but what excites me the most here is the prospect of seeing Jaume Collet-Serra direct a Disney movie. Collet-Serra specializes in highly-stylized movies that usually star Liam Neeson, so I'm very curious to see what he does with some Disney money backing-up his vision.Jungle Cruise begins filming this summer.