'Avengers: Infinity War' Box Office Looks To Land Biggest Opening Weekend Of All Time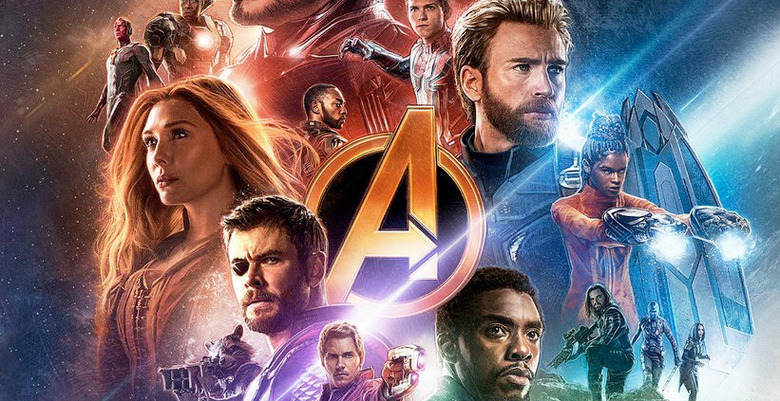 In just one week, audiences will flock to theaters for the first showings of a blockbuster event that has been 10 years in the making: Marvel's Avengers: Infinity War.
Following 18 movies and billions of dollars at the box office, the latest assembly of The Avengers will bring it all to a head with an adventure that unites nearly all of the surviving characters we've met in the Marvel Cinematic Universe. And when you have a movie bringing together that many characters from that many franchises, you're bound to make a few bucks at the box office. In fact, Avengers: Infinity War is on track to have an opening weekend that could surpass the record $248 million earned by Star Wars: The Force Awakens in 2015.
The Wall Street Journal has the latest projections about the Avengers Infinity War box office, and it's the extra interest that moviegoers appear to have in the comic book sequel fueling the record-breaking predictions. In a recent survey that is used frequently and widely in Hollywood, 45% of moviegoers surveyed had Infinity War as their first choice to see out of all the upcoming movies. Meanwhile, Star Wars: The Force Awakens was the top choice of just 33% of moviegoers with the same window of time before its opening.
As much of a box office giant the Star Wars franchise has been over the years, it should come as no surprise that a big event like Avengers: Infinity War could rival it. We're talking about several franchises that have preceded this movie coming together for one huge crossover, so of course it's on the verge of surpassing the records set by The Force Awakens. However, the opening weekend record will likely only be surpassed domestically, not globally
The excitement for Avengers: Infinity War is only getting higher with plenty of the early screenings on April 26 already sold out. The demand is so high for these sneak peek screenings that there are super late showings being added to theater schedules, some starting as late as 2:30am. And don't forget that Infinity War was already selling more pre-sales tickets than the last seven movies in the Marvel Cinematic Universe combined.
Avengers: Infinity War is such an unprecedented event that IMAX is putting the movie on all of their screens worldwide until Deadpool 2 arrives on May 18. Since the movie was shot entirely on IMAX cameras, the giant screen will certainly be the way to see it, but you might be hard-pressed to get good seats for opening weekend, so you better make sure you get your tickets as soon as possible.